16 Jan 2010

GPS Tracks Truncated.. doh!

How many times to I forget that my Garmin 60CSx GPS can only handle tracks that are 500 points or less?!?!

Well, I finally figured out why this happens and how to fix it.  See when I get home from a ride I dump my tracks & waypoints to Mapsource and then tidy everything up, usually resulting in one big track like so, 2,087 points!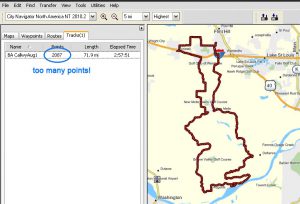 Now what do you do?  The new versions of Mapsource has a cool feature to "divide" your tracks, so this is one solution but an even better that has worked for me is, the Track Filter feature…
Make a backup
First, you may want to create a copy of your track before proceeding just in case anything happens you don't like. Select the track in the Tracks tab, right-click on it and choose Copy.  Now right-click on the same track and choose Track Properties, rename the Track just so its a different name. Click OK.  Now right-click in the whitespace in the Tracks tab and choose Paste.  You will see a new Track pasted in with the original name.
Lets Filter it!
Select the track in the Tracks tab, right-click and choose Track Properties…
On the Track Properties window, in the lower right, click the Filter.. button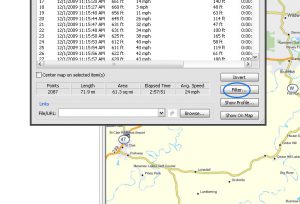 In the Filter window at the bottom choose Maximum Points and enter the value 500, like so: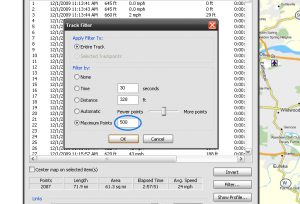 Now click OK and you will see the Track being recalculated to only 500 points.  Here's how mine looks after going from 2,087 points down to 383, track looks the same and will now download to my GPS without any Track Truncated errors!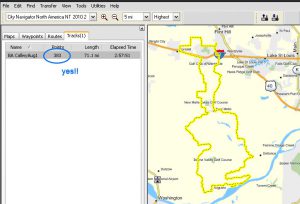 You will want to go over your track and make sure the changes are what you want.  So far this feature has worked well and saves a LOT of time!  Let me know if there are better ways of doing this stuff, working with Mapsource, Google Maps, & Google Earth are all part of the adventure!