16 Sep 2010

Commuter Tales : 9.15.10

I haven't posted on my commuting experience since I've been riding my Versys to work every day it isn't raining.  It's been a great time so far, I'm still getting the bike setup for me so there will be added comfort coming soon.

Yesterday, 9.15.10, I left work and the weather has been just great.  It was a bit overcast but didn't look like rain.  Looking down at the display, the Fuel gauge is flashing constantly so I jump off at Upper Btm Rd, get gas and decide to go the scenic river road route home.  Pull out, about 1/4 mile … it down pours!  I pull off, hit the flashers and throw my rain jacket on before I was soaked completely.  Back on the road again.. the Versys does a good job at throwing the rain over my helmet, for the most part.  About a mile down the road you get to some good uphill twisites.. around the first corner.. and.. .. in the ditch a car. Standing beside it are 3 teenage girls, two laughing the other one the phone, probably explaining to Dad.

As I roll up the twisties, several cars are coming down so I flash my headlight at them to at least wake them up… after the third corner there's a slight straight away.. as I plain out I see about 3 cars ahead of me the LARGEST buck (male deer, that is) I've ever saw in my life.. Huge!! It prances across the street in front of me.. and effortlessly leaps over the 5 foot fence on the other side…

Wow.. deer are deadly to motorcyclists but this animal was very impressive.. I'm sure glad those girls wrecked their car which slowed me down which gave me a 3 car length safety cushion from the largest deer I've ever saw.

This is how I picture him in my mind:

I carry on .. rain stops and heat picks up. But I decide to keep the rain gear on.. Cruising up Hwy 40/61 near Lake St. Louis, I see this flat black Honda car creeping up on my left.. it slowly gets closer, and not only closer in the other lane, but closer in MY LANE!!  I edge to the right side of my lane, slow down a bit and see a teenager, with both hands txting on a flip phone!!  Those things are the hardest to txt on, not even to mention while driving 65mph on the highway.
This is when I remember the extremely loud fog horn the previous owner installed on my Versys.. Oh. yeah.. I let him have it.. "PPPHHRRRRRRRRNNNNNNNN PHRNNN PHRRRRNNNNNNNN" haha! This dude thought a tug boat was about to blow him, he throws the phone in the passenger seat and sits at attention… glances my way.. and I just nod!
A 1/4 mile later.. the rain hits hard.. and I have a nice rainy finish to my commute, pulling in my garage with this look on my face: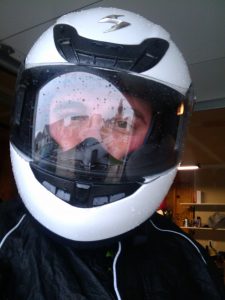 "WOooHOoooo"!