27 Jan 2011

Luke & Nick's S. African Adventure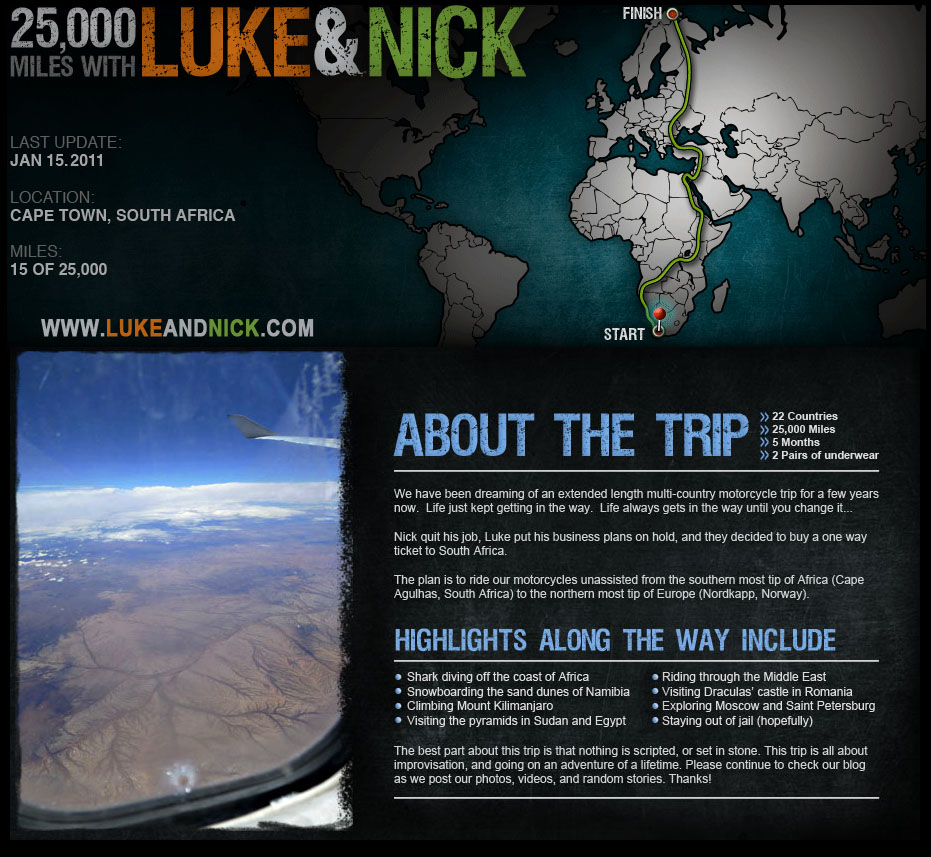 There are epic rides that come along that just grip me and this is yet another one. Their intentional efforts to be creative while capturing this trip has gained my respect. From a creative angle, you quickly see the work both these guys have put in as well as from people who are supporting them back home. Now that I'm caught up on their schedule, it's time for you to meet Luke and Nick.
Luke is a 27 yr old Alaskan fisherman and Nick is a 25 yr old engineer, both from Michigan.  They've set every day life aside to departed on a 25,000 mile cross-country motorcycle trip from Cape Town, Africa to northern Europe, where the trip will conclude in Nordkapp, Norway. That is AWESOME!
Unfortunately, they are still waiting for their bikes to make it through customs…
One of the problems is my bill of sale. It is a hand written note and signed by the seller. It is not officical looking, so they are worried that it could be fake. They need the bill of sale because they want to know how much the bikes are worth so they can tax us accordingly. Nick of course does not have this problem because he bought his bike directly from a dealer and there is a very thick paper trail documenting that.

The second problem is that the paperwork lists only one bike with parts inside instead of two bikes with no parts. This probably happened because we put both bikes inside one crate. So before our bikes can be released they need to change the paperwork so two bikes get released instead of one bike and parts. This needs to be straightened out otherwise we will have a huge problem at the boarder when trying to cross on obviously two bikes verses one bike and spare parts. – Luke
Hopefully it won't be long until they get this all squared away & saddle up! So, if you're any kind of adventurist or traveler, this is a trip you must get in on!  You can follow them on Twitter @lukeandnick, their blog and their ADVrider.com thread. Seeing them run with elephants, swim with sharks, hunt for lions and meet the people in African has been a joy so far. I just can't imagine once they get on their bikes!  These are the times I'm so thankful for these interwebs, we get to follow this life experience through photo, video and story.  Luke & Nick, be safe & let's do this, thanks for letting all of us tag along!