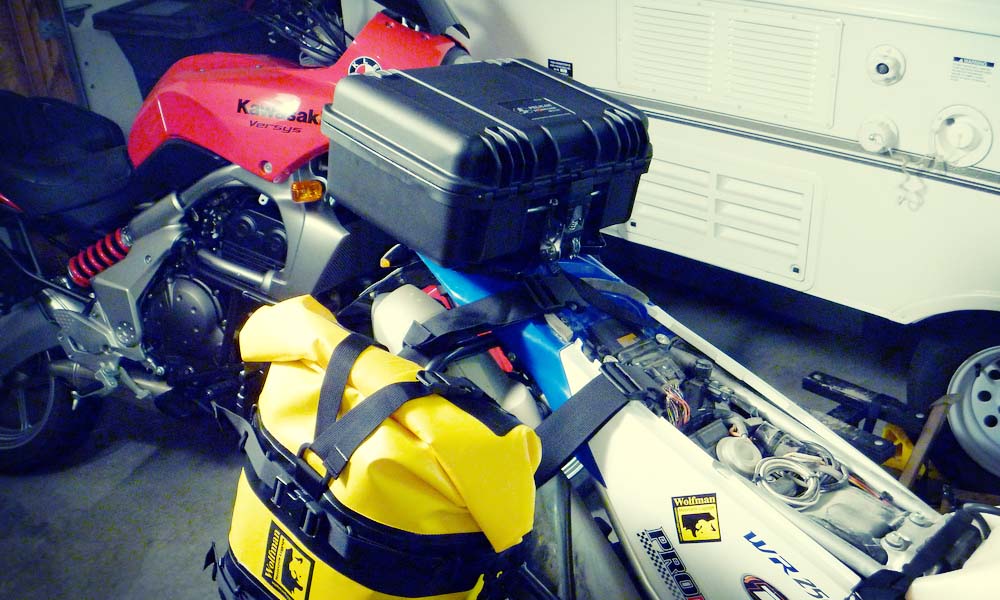 06 Mar 2011

Pelican Case Mounting

I thought I'd share how I mounted my Pelican iM2100 Storm case to the rear ProMoto Billet rack on my WR250R. It's getting close to riding season and even closer to the start of a huge video production, so thought I'd get this done!
Items List
1 – Yamaha WR250R w/ ProMoto Billet rear rack
1 – Pelican iM2100 Storm case
1 – 1/4″x12″ rod from your local hardware store
1- Ratchet strap
1 – Cabinet Drawer Rubber pad (optional)
Case Mounted
The goal was to mount my Pelican case without drilling holes in the case. Here you can see what the final install looks like.
Installation
I strategically drilled the holes in the back of the Pelican case.  The way I did it was I drilled three holes, two straight through the right side of the case, then only one on the left side. The left hole I drilled about 1/8″ lower than the right so it would put tension on the rod and help keep it in place. I'm going to see how this holds up, if I need to I can always drill the other side and slide the rod completely thru the left.
One thing to consider when selecting a ratchet strap, make sure its not too long or else the rounded bottom of the ratchet will hit your bike's rack or seat. The one I used is about 3.5″ long. Of course this will all depend on your rear rack setup and the case you are using. Using a dremel I ground off the pin holding the short strap and hook off the ratchet. Slide the rod through the two holes on right side of the case, then thru the ratchet and now thru the left side.
Next I looped the strap thru the handle of the case and weaved it thru my rear rack and then back into the ratchet on the other side.
For my rear rack it worked best to have the ratchet at the front, the bottom of the ratchet did not hit the rack this way.
Now ratchet that thing down snug, I was surprised how well it strapped down.  Here's a video showing the finished product.
Dismounting the Case
As BigDog commented below, I did take his advice and add a small piece of cabinet drawer rubber padding underneath the case. It worked very well and it helps keep the case from moving or scuffing the rear rack.