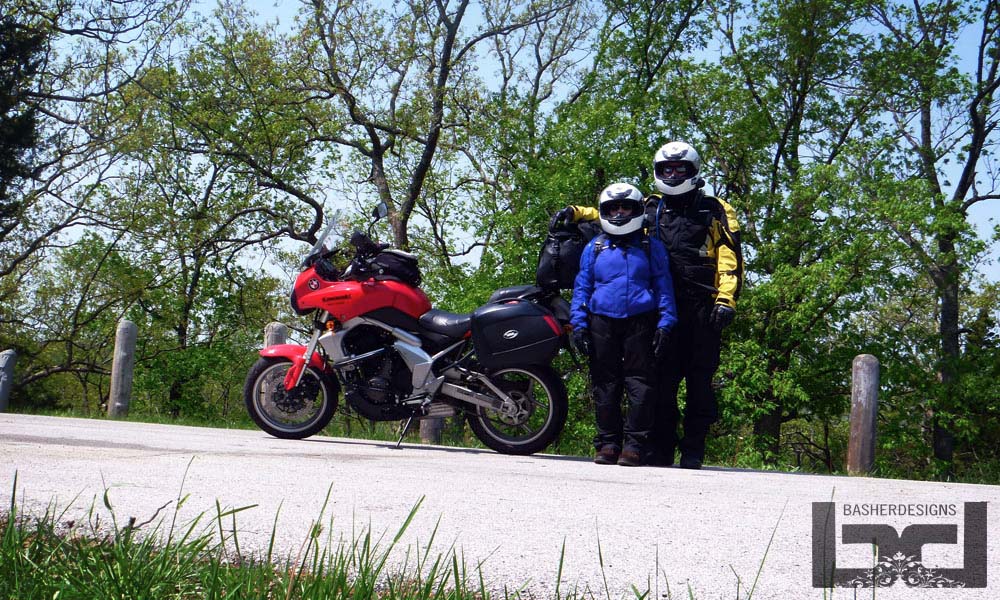 10 May 2011

First 2-Up After 15 Years!
My wife and I were celebrating our 15th wedding anniversary so we decided to do something we've never done… take a trip on the motorcycle together! Our largest obstacle this time of year, of course, …the weather.  Here in the midwest it's been raining every other day with a tornado thrown in here and there.  So the plan was to do a two night, camp-off-the-bike trip down south around the Ozark National Scenic Riverways. The weather did break enough for us to get a trip in, so we were thankful and ready to go!
Story of 2 Texans…
Before I get to our trip, I have to share the story of how my wife got her riding pants. A few weeks prior to our trip I begun reading a ride report on ADVrider of a husband(Jordan) and wife(Nikki) riding from Texas to Alaska, they called it "2 Texans to Alaska (and back)".
It was perfect timing as I planned our ride, reading about how this couple experienced and shared their ride together. Meanwhile, my wife and I were looking for riding gear for her and were having a heck of a time finding gear for petite women.  So, I replied to this ride report asking the wife, Nikki, what gear she had for their ride and if she had any recommendations… she replied and Nikki's advice helped us decide on gear for Joyce and we really appreciated hearing what worked and what didn't!
Anyway… a few days later I get a message from Jordan, he says he has a pair of pants that were too short for Nikki and they'd like to send them to us for free… We promptly took them up on their offer and sure enough a box at our front door just a few days later.  Best of all, they fit Joyce! Woohooo! Another example of how great the ADV community is.  We thank you 2 Texans, maybe we'll ride together some day!
Heading South
After getting our two boys to some friends, we were finally able to gear up and start riding south. With our Sena headsets paired up, Joyce climbed on back and we were ready to ride!! Off we went… I was so excited to finally take my wife down along some creek roads that I've enjoyed so many times..either riding the WR or Versys. One creek being Femme Osage Creek, running along this creek reminds me of being out west along mountain valley creeks, it's a beauty.
This being our first 2-up ride, I was very aware of how the bike was handling and braking. The twisty creek road made it obvious I needed a tad bit more air in the rear tire. Our first stop was down in Washington, MO for some lunch. We pulled in to the Taco Bell there and as I cut the engine on the Versys, I heard another bike and from the sound I knew it was an aftermarket exhaust of a dualsport bike.. well at least I was hoping. When I looked up, sure enough, a WR250R (I can spot them from miles) was pulling in, as the bike got a bit closer, I knew who it was for sure!  A fellow Missouri ADV'r, Jon, whose WR is very easy to pick out, with an aftermarket Baja headlight and the fact that he's one heck of a rider. We chatted for a few about WRs and about the annual Swinging Bridges Ride that he was going to ride that next day. My plan was to ride the SBR as well, but our schedule got change so we were celebrating our anniversary the same weekend. No worries, I rode with better company anyways! Here we are after lunch getting ready to head out.
Oh yeah.. need to stop and get a some air.  Joyce just hangs out looking amazing!
We were ready to get some miles in now that we had some food in our bellies. And that we did.. I pretty much stuck to country letter highways or paved roads that I thought would be scenic and smooth.  This was not the ride I wanted to take Joyce on the more adventurous routes.. I'll save that for next time!  Continuing southwest along the Bourbeuse River on Fox Creek Road, then a little stop in Beaufort for gear adjustment and a photo.
You could just sense that the ride was about to get better. The roads were getting better, the weather and we were getting more comfortable on the bike together. As we continued our way down and around the river we saw some beautiful homes and ranches. This one we stolled upon I had to stop and get some photos… this area reminded us of back in Mayberry..
Diggin the checkerboard silo…
As we were riding south on Shawnee Ford Road, we came upon this one-lane bridge crossing the river, then dumping us into a tunnel of large trees.. it was a bit surreal… I sounded like a little kid in the headset as I couldn't wait to stop and snap a photo.  For me these are the surprises that make a route a keeper!
By now our destination was upon us, we were going to camp at Onondaga Cave State Park Campground. I knew that the south was flooding quite a bit so I checked the website before we left to see if there were any warnings… none were found.  But, here begins the adventure part of the ride, as we pull into the park we see a sign in the middle of the road, ROAD CLOSED.  So, of course, I go around it to see if it was for real. Sometimes signs lie.  About 100 yards later, sure enough, the entire road heading to the campground was under water.  We headed back up to Leasburg to figure out what we would do…
Eating on some Jack's Link beef jerky and a few swigs from the Camelbak, we had some decisions to make.  It's getting late, around 6pm, we could head south and try to make it to Berryman campground, head back north to Meremac State Park in hopes its not flooded either OR a jaunt west to Cuba for a room with a jacuzzi, maybe?? Funny thing is, my wife had mentioned that if our trip got rained out she'd love to get a nice room with a hot tub, so I gave in and we headed to Cuba in search for a room.
As we got closer to Cuba, we began to see more than the average Can-am Spyders zipping around, I told my wife, they must rent these things around here.  As we pulled into town on old Route 66 we saw signs saying, "Welcome Spyders" & "Have you seen a Spyder" & "Spyders Welcome Here", then a hotel parking lot completely filled with Spyders.. ah oh.. probably no room in the Inn for us!?
We pull in to the first hotel, my wife walks in with all her gear on and asks if they have any rooms available, since she had her headset on I heard the receptionist say, "no, but you should check across the highway". So across the highway we go.  Next hotel, they have one double bed room, we decide to check one more before committing.  Score… the last place has one room available and its a jacuzzi room, Joyce and I just start giggling as we remember her comment about getting a jacuzzi room. The nice lady gives it to us at a discount so we settle in amongst the Spyders…
After unloading the bike we head out to scope the town for some food, neither one of us were craving anything particular.. so we took a ride and a few photos.
Heading back we couldn't decide so we just went to the restaurant next to the hotel.. had some shrimp & fish, a few competitive I.Q, games as we waited..
Seriously.. are these things even possible to just leave a single pin?!
Before hitting the hot tub we needed a late night snack.. ice cream & a grape soda!  So we ran over to the gas station and got some goodies.. can you spot them?
Our first day on a motorcycle together was amazing! We rode just over 100 miles and had a ball every bit of the way. The weather would determine if we head south or back north towards home.
Day 2
Of couse.. we slept in a bit.. but who cares we were child-free and making our decisions at the last second.. ahhh!  After showering I began loading the Versys back up and as I opened the door a nice little surprise and boy did they taste goood! For breakfast we would also have Clif bars and beef jerky.. saving our appetite for lunch.
Before we ride off I would spend some time looking at the weather and decide which way we would ride while Joyce hangs out and watches a little Super Nanny.. haha!
A decisions is made, we'd head north.  Rain is in the forecast and winds are already gusting at 30 mph and in our favor North, nothing like a little push from behind. I would finish packing and get the bike inspected ready to roll. Engine started.. and.. well.. where's Joyce???? Oh.. found her, guess Super Nanny isn't over yet.. come on girl! You can see me in the mirror capturing this shot.. priceless.
Heading north, I decided to just cruise up Hwy 19 to Hermann where we'd grab some lunch. The little historic 1830s town of Herman is always a fun stop.
We decided to hop off the bike for a walk around the town and see why so many people are out.
One thing I love about my wife is she always likes to look nice, not overly conscience about her looks or anything like that, but just enough that makes me really appreciate that about her. I have no problems giving her a few minutes to freshen up!
(this photo is for brownie points)
It didn't take us long to find out today is the Shelby Fest?! Shelby Mustangs were everywhere…new and old.
One cool thing that happened here was they all started their engines at the same time and rev'd them up for charity, it was pretty neat, I'm glad that happened while we were walking through the streets. They sure were passionate about these cars.
We had a good sandwich for lunch then headed back to the bike to gear up and journey on home.. but something caught our eye.. or should I say, sweet tooth..
We just had to go see what all the attraction to this shop was about, I mean it's just chocolate right..
It was very difficult to choose what to get, we finally did and sat down to enjoy. Mmmm!
This little bird kept flying over head from side to side as we had our treat. I think he was accustom to these little white bags and just waited his chance to snag something from us.. thankfully he never did!
Well.. look what awaited us across the street..
It was time to head on home, even though our trip was much shorter than we had hoped we sure had a blast.  Doing something new like this with my wife just brings a smile to my face each time I think about her climbing on back, tapping my shoulder to let me know she's ready to go, or when she skootches far back on the seat, so far I can't feel she's there and for a split second thinking she's gone. But, after this weekend, that feeling will always be with me and I'm so thankful for it, even if this was the last and only ride we ever took.
Thank you, beautiful, for riding along with me for the last 15 years of marriage and even more, the last 21 years since we met in high school….we are a rare breed and I'm proud of it.