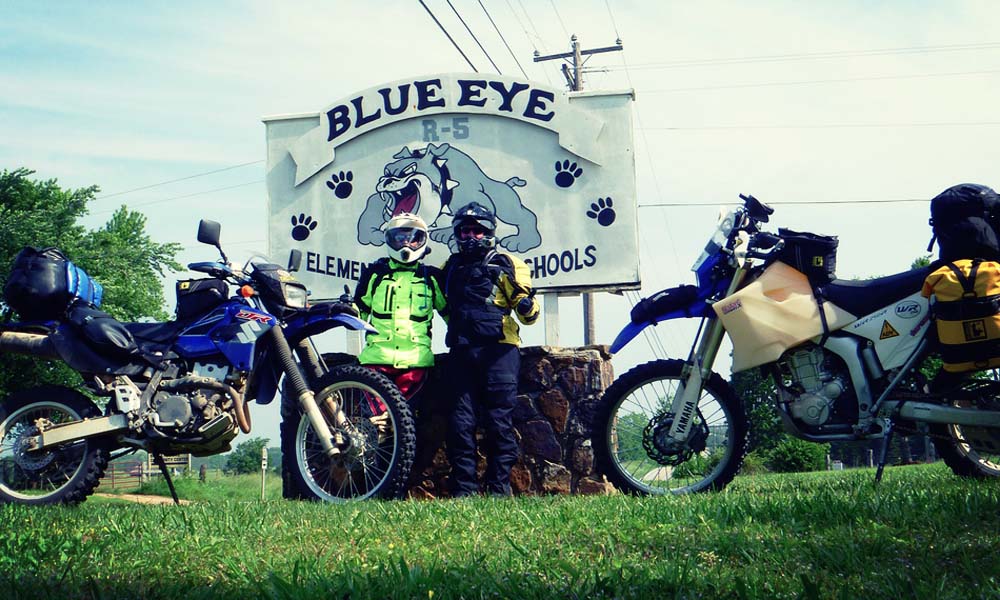 11 Jun 2011

Trans-Missouri Trail S Ride Report

** GPS Files can be downloaded here.

Last winter I stumbled upon a DRZ Charlie's Trans-Arkansas Trail ride report and noticed the "TART" ends in Blue Eye, MO.  This caught my eye.. as you can see in this photo, I know a thing or two about Blue Eye, MO.  This is my 6th grade class at Blue Eye Elementary school…I'm in the back row, 5th kid from the left. Standing right between crazy Gene and Rene(or Rhonda, they're twins).
A little history…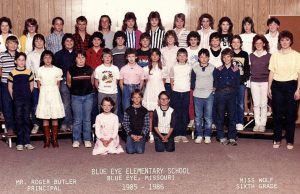 My family moved from St. Louis to a small town just north of Blue Eye, MO called Lampe. We lived pretty much right on Table Rock Lake and I have to say this has to be the best place to live as a young boy growing up.. man, what memories I have.. this is also where I met my life-long best buddy.. Aaron. We met when I was in the 3rd grade and he was in 4th. Around town all the kids had dirtbikes or 4-wheelers.. but not this city boy… I had a bicycle.  For some reason, Aaron decided to spend more time riding his bicycle with me instead of riding one of his motorcycles, 3-wheelers, or dune-cart.. haha!  We grew to love riding our bikes and learning freestyle tricks.  I mastered the "boomarang" and his trick was the "decade". Each of us could do both these tricks but it was quite obvious who was better at each.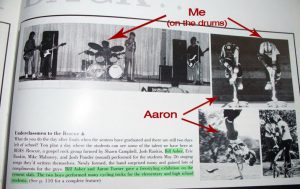 The last year I was at Blue Eye elementary was in the 8th grade, which was in 1988. My family moved back to St. Louis at the end of the school year.. boy, I didn't want to leave our little town of Lampe. But anyways, we had gotten pretty darn good at freestylin'.. so our school asked us to do a freestyle show up at school on our favorite and pretty much only concrete slab around town.  So did a show for our school and it was fun..here's a few photos from the show and from a photo shoot for the year book.
Here we are in front of Ha Bob's gas station busting a couple cherry pickers. Remember this little gas station for later!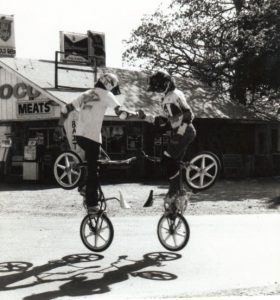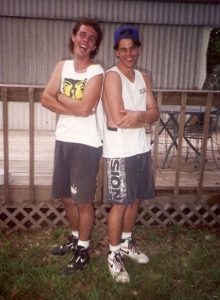 Fast forward a few years, 1992 to be exact, Aaron had the opportunity to move to St. Louis too and go to work for my Dad.  I was grateful he excepted and the move was on! So being that I spent several years down in southern Missouri, I thought why not put a route together through Missouri that ends in Blue Eye, MO and hands off to the TART. We'll call it the Trans-Missouri Trail or "TMOT" (works for me). Then I thought, why not make this trip with my best pal Aaron, and go back to our hometown and let the memories flood in. Of course Aaron said "let's do it!" and we began planning and preparing…his DRZ got a little special treatments..
Bike Prep'n
Day 1
May 20th would be the day we head out.  Luckily, I had some comp time to spend and was able to leave work early to meet Aaron at his house after he got off work. That's what I did. Only had to turn around once, I forgot my Camelbak!! Arriving at his house just after 3pm we left promptly, filled the tanks up and headed due south to St. Clair.  Here Aaron is filling up in St. Clair fill up before the fuel stops would get more sparse. Aaron's DRZ is running the stock gas tank so we planned for 85 miles between stops to be safe. We found out, we can go much more before we would even need his emergency MSR bottle. My WR has a 3.5 gal Safari tank on it so I plan for around 220 miles per tank.  I know when the fuel light goes on, I got another 100 miles to go!
Now.. if you've seen the news lately, the weather in Missouri has just been crazy. Pretty much tornados every other day in our state.  A few days before our ride, we looked at the forecast and both committed to ride.. rain or shine. But we both knew we'd get wet and packed our rain gear! The forecast was rain every day we were going to be out.. but as you'll see, forecasts are often wrong.. After leaving St. Clair it sure didn't take long before that rain gear would come in handy.. just 30 miles later the rain would move in.  We stopped to get the rain gear on..
Aaron transforming into what we started calling him, "Mr. Sunshine"!
What a beautiful area we stopped at. Within minutes it was a full out down pour!
Video Recap #1 – Day 1
With our rain gear on we continued on the route.. entering the Mark Twain National forest, these are the best roads to ride but not when wet! The forest dirt roads turn into slippery snot when it rains so it slowed us down a bit. We were still enjoying the ride but knew we had to push along and… we still needed to setup camp?!?
A few miles later the skies were getting darker and the rain continued to fall at a steady pace. It was time to decide where to camp or head for shelter. We pulled into Hazel Creek campground which is a primitive campground, riding around the grounds we could see this area could flood very quickly. So we found a tree for shelter and pulled out the maps.  The closest city that had, one .. GAS and two possibly a dry place to stay was Viburnum. Off we went… Pulling into the Casey's there in town we gased up and noticed a motel across the street. As we pulled up we saw a group of fellas outside just talking, then saw a trailer with some dualsport bikes on it. They were riding the ShowMe 200 in the morning and I think for a little while they thought we were too. One fella said, "she closes at 7..". I recall it being a bit after 7 so I ran inside, the lady came out and said all she has left was one king bed suite. I really like my buddy Aaron, but… my own bed would be nice!  So I replied, "you don't have anything with two beds?" She just looked at me funny until Aaron walks in .. a light went off in her head I guess. She was nice enough to go ask one of the fellas organizing the group outside if we could have one of their reserved rooms for the night. The group that had the room reserved wouldn't be there until the morning anyways.. so it all worked out. And I got my own bed!
Aaron pointing to our location
With the bikes unloaded it was time for food!  The manager at the motel said there's a place next to Casey's that is still open, in fact, she called down there for us to make sure. So that's where we headed.  It was good food, and the young gal who served us was right, the fries were good!
We stopped at the Casey's on the way back to the room for some snicky snacks.. then time for some trip planning for the morning ride to put us back on track.
Snacks and maps….. and ice cream on my face with cool Klim socks on, yeah that's right! These socks rock, I think I'll get another 5 pair.
After a short evening ride we made it pretty far south, our bedtime prayers included a plea for the rain to hold off tomorrow as it was our big day of riding.