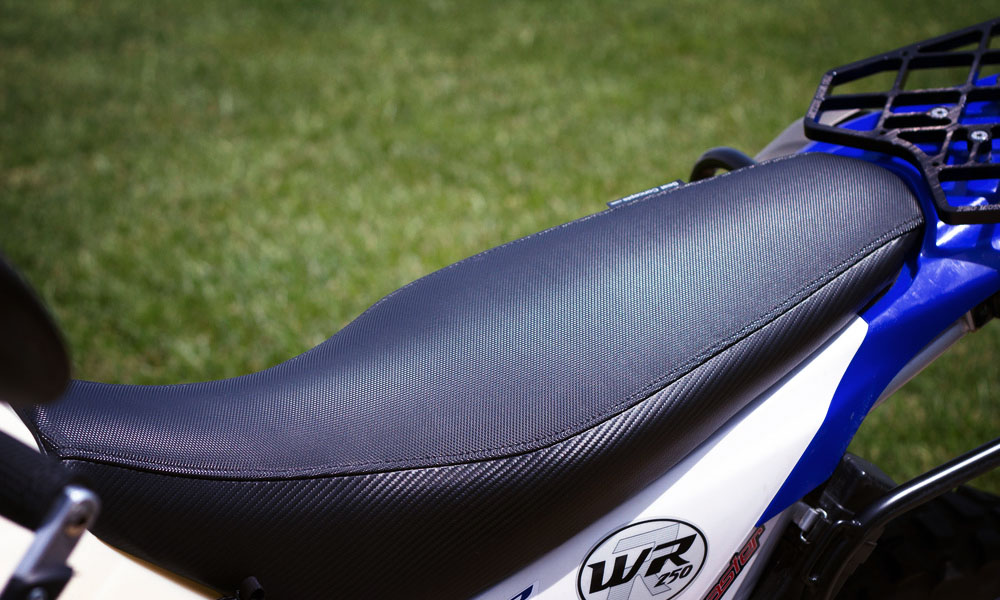 30 Jun 2011

SeatConcepts Seat Review

After pretty much getting every other mod on my list for my WR, I decided to jump in the WRR forum group buy and try out Seat Concepts' seat. The reports from owners who already had the seat said it made a big enough difference and well worth the price. So.. I was in.  Now, from what many veteran WR dual sport riders have said is that the stock seat is much better than most in it's class. This is why I put the aftermarket seat rather low on my list.

So, back in February I put my name on the list and sent Robert at Seat Concepts my weight & $132 bucks. This would include the new seat foam and seat cover of my choosing, I decided on the black standard height with center gripper section and carbon fiber vinyl sides. You still use the stock WR seat pan with the new foam and cover. Or you can send them your stock seat pan and have them install the foam & cover for you.. but I choose to do it myself…

I removed the stock seat cover from the pan using a flathead screw driver and needle nose pliers. It was very easy to remove! Here you can see both foams…
Side by side seat foams
The Seat Concepts seat came with some tips on how to install the new foam and cover. I used some 3M Super 77 Multipurpose Adhesive spray adhesive as instructed on the stock seat pan, then put the new foam on. Allowing it plenty of time to dry.
The biggest issue I had was finding the right stapler to do the job. I first started with a hand stapler.. no good, it didn't work at all. While holding the cover tight then trying with the other hand to staple it through the seat pan is a mighty task.  So, I headed to Harbor Freight to look for a pneumatic stapler that will shoot 1/4″ staples.. but they didn't have any.  Next stop was Rural King.. and bam.. they had a stapler that would do the job. I picked up a Surebonder Model 9600, under $40 bucks too. I couldn't find 1/4″ stainless steel staples anywhere locally, so I had to just get regular galvanized steel Arrow JT21 1/4″ crown staples.
Wow.. now things got very easy! Using the pneumatic stapler is really the only way to do a good job on recovering the seat pan if you ask me. You can get the cover pulled tight and then snap a staple right threw the cover into the plastic. One thing I recommend doing is take the old seat cover, place it on the seat pan and then using your pneumatic stapler give it a go. Adjust the air pressure so the staple doesn't just go right through the cover. A few minutes later I had the seat cover on, nice and tight. Next I cut some access seat cover off of the corners and then put my new seat back on my WR. I approve!
Since you are using the stock seat pan there's no fitment issues to worry about. Here's a few photos of the seat.. it fits perfectly even with my Safari gas tank.
Monkey Butt?!?
The real test is… is it worth it? When you feel the Seat Concepts foam you immediately feel a major difference in foams. Seat Concepts is softer, yet more solid. If this makes sense.. the stock foam just has the same consistency. Whereas the Seat Concepts is softer but more firm as pressure is applied. It's pretty darn cool.
My first long trip with the seat was my Trans-Missouri Trail ride.. over 730 miles and I definitely noticed a big difference! I kept an eye on the mileage to see when my gluteus maximus would begin to get soar.. I'll have to say it was a good, 40-50 miles LONGER on this seat than the stock. I don't care what seat you have or how much money you threw at it.. your rear will be soar after so many hours on the saddle. With that said, you can easily add more comfort to your ride by upgrading your seat.
I personally give the Seat Concepts seat two thumbs up.. it's wider, softer, gripper and has done what it's purpose is to do.. give me more miles on the saddle. It is a tad bit taller than the stock seat, but you can have Robert sculpt it to your liking and your body weight. This is really important when getting an aftermarket seat. Here's what I do know.. my Versys has this Corbin seat on it.. cost about four times as much as the Seat Concepts seat (luckily it came on my Versys when I bought it), weights about 100 lbs and is not anywhere near as comfy as my WR Seat Concepts seat. My plan is to talk with Robert over the winter months and see if they could do a custom seat for the Versys.. that would be awesome!
If you are in the market to upgrade your stock seat for your WR250R or any other bike for that matter, I highly recommend contacting Robert at Seat Concepts and see if this upgrade is for you. I know your butt will be happier for it!