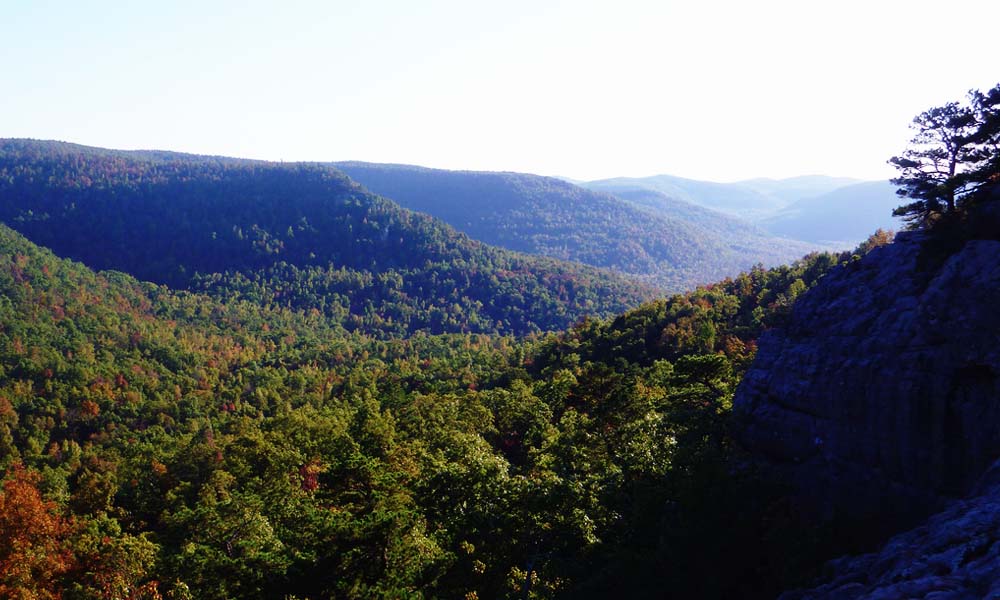 07 Nov 2011

Arkansas Adventure 2011
After our awesome Swinging Bridges ride back in July, we decided we needed to get out again. Where too? South to Arkansas, Freddy and Morgan were ready to ride the Boston Mountains area again, and for some of us it would be our first.  After a conference call with all the participants, we decided I'd reach out to my fellow ADV buddy "DRZCharlie" for a recommended route, after all it was his backyard!  So that's what I did.. I talked to Charlie and described what we were looking for and the amount of time we'd have to ride… he sure did come through on this one!
Let's see.. there ended up being nine of us on the trip… Freddy, Morgan, Travis, Paxton, Yousef, Ken, Jonathan, Russ, and myself. What a great group of guys to ride with, we had all different kinda bikes and riding experience, but we all shared the same love for adventure. That always makes for a fabulous trip. I know each one of these guys would give me the shirt off their back if I needed it.. and that's the kinda buddies I want to spend time with.
The Trip Begins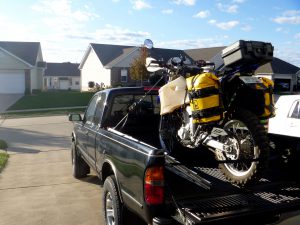 We would all meet up at Kimberling City Inn in Kimberling City, MO on Thursday night. Some trailered down and a few rode down from Columbia, Springfield and I think Travis even rode from West Plains… I would load up the Tacoma and drive down listening to the World Series on the radio.
The guys landed a condo so we all got to find out who snored and who didn't. I ended up sharing a quite small pull-out bed with Freddy, luckily only once did I find my hand where it shouldn't have been.. haha! The next morning we headed to the restaurant for some breakfast.. boy this took a lot longer than we wanted, then we'd head to Blue Eye.. right.. wrong! The first bike repair occurred before we could leave the parking lot.. ha!
This first video shows our meetup, repair work, flat tire and oh..yeah!!.. the beginning of some good riding!
YouTube Version:

Riding with a large group takes a little time to fore everyone to sync up and get into that smooth groove. After a few miles our group started to gel… especially when we came to these next roads in the following video. Man it was a good riding, very fun and even the guys on the big bikes were smiling from ear to ear! The only one complaining was Freddy's KLR.. seems the fan fuse blew out which isn't the best when you are riding slow technical stuff..
YouTube Version:

Camping @ Sam's Throne
It's been a great day of riding and beginning to get late in the day. We didn't get as far along on the route as we had hoped but that's ok, we're just along for the ride.  We reached Mt. Judea for gas and supplies when Ken had mentioned a beautiful primitive camping spot out on Sam's Throne. So we headed towards it and a beauty of a ride it was. I did a little research on Sam's Throne and found it to be quite interesting. It's most popular these days among rock climbers but here's where it got its name:
Sometime in the 1820's buffalo hunter Sam Davis, in search of his sister who he claimed had been kidnapped by Indians, climbed on top on a sandstone outcrop and preached fiery sermons to the hardscrabble settlers who lived below. Besides spewing damnation, Davis claimed to have a hoard of gold stashed on the summit of his rock, and built a log blockade across the formation's walk up to keep out would-be thieves. He also said he'd live for 1,000 years. His rock pulpit became known as Sam's Throne. It is also said that he used a cane to ambulate and that the cane was hollow and filled with gold dust. Before Sam died, he allegedly climbed up to the Throne and buried the cane, where its treasure resides to this day.
The peak in this photo below is what's named Sam's Throne, this rock sits right in the middle of this beautiful valley…
This video you'll get to see some of the fun switchbacks we rode heading to camp, then this amazing view along with our awesome campsite. I slept so good, you could hear the wind russel the tree tops as it moved from one side to the other.. so peaceful lying in a tent listening to it move.
YouTube Version:

Glorious Day Two
As we descended from Sam's Throne, we all noticed the temperature was dropping.. I didn't think it would have been warmer up there but it sure was!  Once again before we got too far, we had to stop in Jasper at the Junction Stop to fix that DRZ again and flat number two for the trip!! Pax & Ken seem to always jump in to help out so they are our designated pit crew…the first flat on Pax's 950SE was repaired and ready to go in under 20 mins, it was amazing!
Back on the route, today would be the best day of riding, as our journey took us towards Oark, which means we would ride some of the TransAm Trail. After a brief chat with DRZCharlie the night before, he mentioned that a few roads near White Mountain had been closed and stay away because they were keeping a close eye out for intruders. No worries for us.. there's good riding all over the place down here.
As we neared the road closures, we continued around Turner's Bend.. and came across several Harleys on the side of the road. A lady was waving her arms, there had to be trouble around the corner and sure enough there was. Seems one of the big Harley bikes was run off the road by a white Jeep, the rider had to put it in the ditch. His face hit the top of the windshield and put a gnarly long welt on his face. He only had one of those little skull cap helmets, so no face protection and boy did he need it! He was up walking around and said he was alright.. but he sure didn't look alright!
Ok.. back to our adventure.. man the weather was fabulous and the riding even better.. see for yourself!!
YouTube Version:

We had a blast running those roads, me and Freddy let Morgan lead out on the last section.. it was fun chasing him down.. I was holding back the WR so I didn't make them feel so slow on their big bikes .. haha! She eats up the rough stuff, even that rock Freddy kicked up right in front of me at 9:40 on the video! They do out run me on the slab.. but hey.. I'm definitely OK with that.  No.. honestly, I was amazed at how fast Morgan can ride that GS.. he's got it all tricked out, YZ front-end and he kept saying how great it handles with the Wolfman bags instead of his hard cases. They are both very good riders, and man I'm still smiling when I think of us tearing down that road.. as you saw at the end of the previous video.. everyone was giggling like a bunch of girls!!
Morgan on his GS
We stopped for a little break after running down that beautiful road and by this time we were getting hungry! If you don't know yet, the place to eat down in this area is the Oark Cafe.. World famous burgers and pie… or maybe its just the best thing around after a long hard day of riding… I want to think its world famous! Don't forget to write your name in the little book down there.. a lot of ADV'rs in that book.
But.. before we get to eat.. its another great road.. one of the favorites of the whole trip for sure!
YouTube Version:

Now .. its time to enjoy a great meal at Oark Cafe before we ride the great Warloop Rd…
Enjoy the atmosphere of Oark Cafe.. it's a hoot! Then journey down Warloop road, a different kinda hoot.. haha!
YouTube Version:

After Warloop we headed down to Mountainburg for gas and camp supplies. Our plan was to camp up at Devil's Den.. well, its an adventure right!? When we got to Devil's Den the campground was 100% FULL!  We even asked locals for a remote campsite and couldn't find anything. By this time it was pitch dark, which enabled us to see coming from the west a nice size storm.. the lightning reminded me of 4th of July.  Travis pulled up the radar on his phone and sure enough a large storm was heading our way. The camping there at Devil's Den can be a bit muddy, I know I didn't want to pack up in that muck. So we headed north and ended up in Fayetteville at hotel for the night.  We ordered some pizza, watched Albert Puljos knock 3 homeruns out of the park and shared a lot of stories.. it was a great day!
The next morning, Sunday, we needed to head out. A few guys had a looong ride back home and others needed to get back to the trucks in Kimberling City. We stopped for breakfast before we'd say our good-byes..
A last group photo before we would all head for the hills… thanks Travis for taking the photo.. ha!
I think I can speak for everyone here, we had a great time… we thoroughly enjoyed hanging out, camping and riding during this trip. So……. where we going next boys?!
The Route
Our trip took place Oct. 21-23, 2011. Just look at these elevation changes…
[iframe title="AR2011 – BlueEye2BlueEye" src="http://www.dualsportmaps.com/embedMap.html?id=9AC7DB2A-5CF8-4D68-B8FF-ACF6BE68453A" width="500″ height="375″]