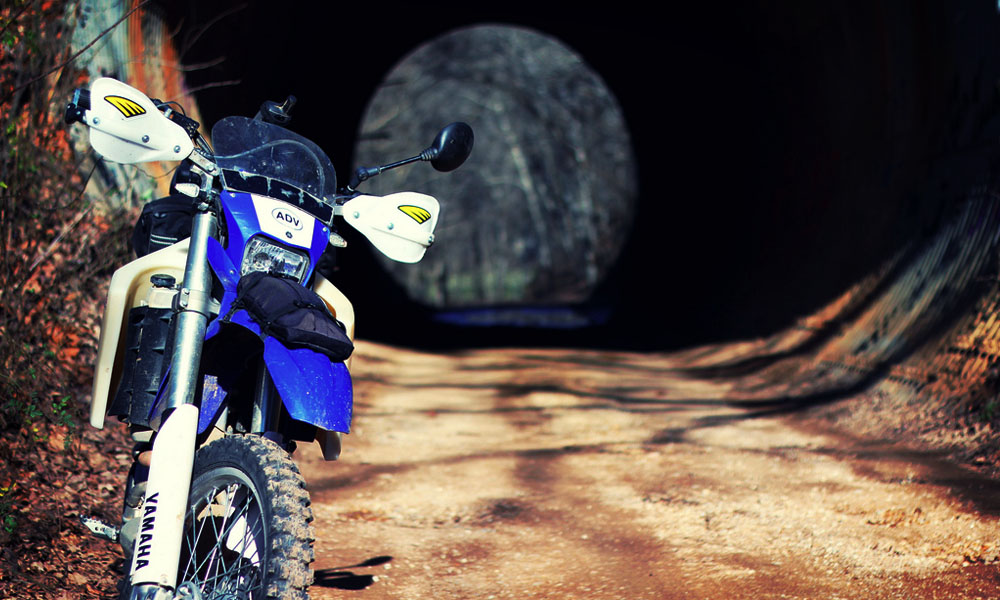 03 Dec 2011

Black Friday Adventure
After a great day celebrating Thanksgiving with family, what better to do on Black Friday than get up super early, say around 4:30am in the morning, stand in line for hours and save a couple bucks on gifts!! Shooot.. I know a million other things I'd rather do!
Luckily, this year Black Friday was a beautiful sunny 65 degree day, a perfect day to get one more ride in before the season ends. And thats exactly what I did. This report is filled with an overload of photos, goofy self video, and some riding footage to boot! Read every word, skim the photos or just watch the videos.. heck I don't care cuz I had a blast putting it all together…enjoy!
My Plan
I didn't have one. Ahhh… what I did know is I was going the head south!  I rolled out of the house around 8am and pointed my WR south, towards Mark Twain National Forest area. There were a few roads I had marked earlier that I wanted to check out, possibly add them to future routes. So.. off I went, headed down a few country highways, the fog was still hovering over the fields…
I would ride solo on this ride.. but for some reason I never felt alone…
I passed through the little old town of Dutzow… most people don't know or care that Dutzow was a settlement village for German emigrants dating back to early 1800's before the Civil War.. the little town was referred to as Lake Creek. The creek to the east of the town still flows today and has the name Lake Creek.
There are several very old historic towns in Missouri, and a few very close to me. There's one in particular that I'm going to ride to and poke around, every time I ride through it I'm fascinated by the history.. stay tuned for that one.
Before I know it.. I'm crossing the Missouri River into Washington.. getting ever so close to some good forest roads..
Get Me Off This Pavement!
For some reason today, pavement really depressed me, I couldn't wait to get off this tarmac and ride gravel…then forest roads. Riding those kinda roads makes the experience so much better.. its like the well-produced soundtrack to a great movie, the movie wouldn't be the same without it.
I turn southeast and run along Indian Creek for a few miles…
Looking out over Indian Creek…
I was a little surprise to see how swollen the creeks were today.. its a beautiful sound though. I took a break here and just listened to the water.
Have a listen…
Now I'm entering the national forest area and you can immediately tell by the roads.. nice dirt roads.. not gravel.. but dirt!
This area here is just entering the Huzzah Conservation Area…
Heading down this great road where the Hinch Branch met, the view opened up and catching my eye, were several glaring white trees..wow..
I got closer to get a better look.. I'm not any kinda tree expert but I think these are white birch trees?! Whatever kind they are they sure did look amazing among the dab colors of their surroundings.
A few other neat things caught my eye running down the forest roads… here's a glimpse…you can see my helmet cam footage in the video recap below.
It was nearing 11am, the temps were warming up and the riding was getting better and better… but I had no clue how good it would actually get.
Ridin' The Pine
During the fall & winter months.. the pine trees in the national forests are beautiful.. you start to smell them as you near, the sound deadens like there's snow on the ground.. I stopped for a few minutes just to smell the ros.. I mean pines!
As nice as these were here in the Huzzah area.. oh how they would get even better a bit later in my ride!
So I continued a few more miles exploring the area on roads I've never traveled.. finding neat and interesting things around every corner..
My WR doing what she does best.. taking me to things I've never seen or experienced before..
a neat little old church, I'd love to hear a sermon preached in this old church!
Stopping at this crossing I looked at my GPS and saw I was turning onto a familiar road, just never road from the very beginning of it. I knew I'd run through some more amazing pines.. typically I like to run these forest roads at a good clip because they are so smooth, but today, I'd take it slow and sink it all in.
Just like ole' Betsy here.. sinking it all in, watching some kook ride by on a weird looking horse..
I'm getting closer to the pines of Mark Twain National Forest.. you can just start to feel it..
then a row of them on one side of you..
Then on both sides..
and the next thing you know.. you are engulfed by them.. feeling so small, just you and your motorcycle. I hoped off the bike and took a little walk around..
see my WR in there?
just a pretty surreal time for me that day, walking along among the pines.. the smell was that of Christmas. And the meaning of Christmas is quite special to my family and I. I was reminded of how blessed of a guy I am, walking back to my bike…
I saddled up and carried on… seeing old little cottages like this makes me wonder who built it? Who lived in it? Was this their pride and joy, their dream home? If it was, I'm sure it was quite nice living out here.
Oh, What's This Waypoint?!
Still pointing my WR south, I decided to run Gobblers Knob Rd  instead of the usual Pigeon Rooster Rd which runs down Machell Hollow.  Gobblers Knob sends you over the Courtois Creek.. along this long low water crossing..
Courtois Creek is a larger creek in this area, it branches off the Huzzah Creek up north and continues for miles down to Iron county. The creek systems in Missouri are vast and absolutely beautiful south of Hwy 70. I've found the majority of the creeks north of Hwy 70 are muddy! like this one..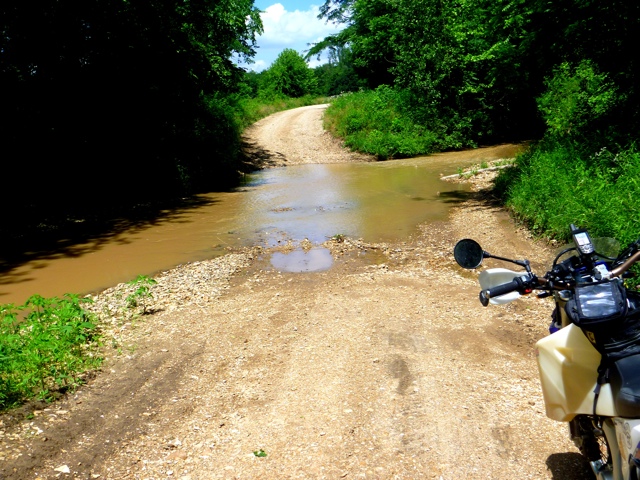 No mud around these parts down here.. my next turn would be onto Big Shoal Creek Rd.. which is just beautiful, runs along the Shoal Creek with some amazing bluffs…
I decided to take another break here…listen to the water sing while I drank some water..
While taking my break I began to zoom out on my GPS to see where I should head.. I first saw the waypoint "DillardsMill", well.. haven't been there so lets head that way… wait.. then I saw another waypoint.. "Oh, what's this waypoint, "TunnelBNSF"??  Then I remembered… and knew I'd head there and save "DillardsMill" for later! I don't think I ever got back on my WR any faster.. and was off like a shot!
This tunnel is part of the Burlington Northern railroad system.. and for some reason I just LOVE trains! They fascinate me, guess they bring some sort of simplicity to things nowadays. Those massive engines are kings of power. When I got home I began to research Missouri railways and Burlington Northern. I found this very interesting video about how the snow and then floods of 2011 affected BNSF (Burlington Northern & Sante Fe), specifically along the Missouri and Mississippi rivers. I had no idea BNSF did so much work to try to protect their railways… wow!
 Rising Above: The Floods of 2011
[flv]http://www.bnsf.com/media/video/video/rising-above-short-ip-v1.flv[/flv]
Amazing video huh?! I respect all they've had to go through while trying to stay loyal to their customers. So back to riding, and staying on the subject of trains…I kept my eyes out for railroad tracks! Then.. around a corner.. looky here…
I'm getting closer.. then off to the side of the road I see this chair next to a fire ring. I think BigDog & HighFive forgot this chair when they were down here on their big pigs.. haha!
Nah.. both those guys are WR owners and I respect them a lot. Riding down this road headed to the tunnel, I could see several cut-throughs into the woods where logging has been done. Not sure if this was legal logging or just Paul & Jed's self-service lumber-jacking operation.. ha! Either way.. I took a ride into the woods to get a closer look.
Maybe this is the forest department clearing out trees.. but it sure did look awful crooked to me, the way trees were cut and branches piled up leaned against other trees.. who knows?! A few hundred yards later.. I round the corner and… there it was… a very cool tunnel going under the railroad… I rode through it and back, then got the camera out for a little photo shoot!
BNSF Tunnel
I had a lot of fun hanging out here.. a lady drove by in a truck and just smiled and waved at me.  Saw some kinda birds at the nearby house walking in the road trying to figure out what the heck I was doing. Oh how I'd love to stand under this tunnel when a train drove over.. too bad this part of the RR is not in service anymore…
After putting away all my gear, I headed north and turned left on John Coleman Rd to see the old RR bridge still standing over Huzzah Creek, and boy, to my delight another awesome piece of history right next to each other…. photos tell a thousand words.. enjoy.
You can't have too many photos with your own bike in them.. can you?! This area was real neat… I did a little "Blue Eye Bill" on-location video here for your enjoyment and laughter.. haha!
Well it was time to mosey on.. get back on the trail, it was around 1:30pm and I had no clue which way to go.. I decided it was too late to head more south to Dillard Mill.. so I needed a route.. then I talked to myself.. I said, "self.. why not follow this here railway as far back home as you can".. then I answered myself, "thats a grande idea!" and thats exactly what I did.. I weaved and winded through some great roads.. had to hop out on some pavement then ended at another historic bridge in Steelville. I know its another month to Christmas but seems I was getting presents early!
These old bridges are becoming extinct it seems around here.  Just a month or so ago we lost an early 1900 swinging bridge to some new fancy smancy bridge.. bah.. I vote for a new swinging bridge if its gotta be new… anyway, not sure how much longer this bridge will stand, this photo will last longer thats for sure.
Road ends here.. I thought about riding across it.. but, well, I chickened out.. ha!
We just don't make them like we use to. There's a lot of things that pertains to.. but one things for sure. I'm glad my WR isn't like the old bikes.. thats one thing I've welcomed the technology on this bike.. its just as reliable as they come. Just like a good old dirt road with a fresh set of 606's!
Going on 2:30pm now and I'm a good 2 and a half hours from home.. so.. I started heading back home on country highways.. just hoping soon…
me and WR will cross paths…
with another amazing riding day like this one sometime soon!
I tell you, I just had a great season-ending ride and I'm thankful for great friends I've met on ADVrider,  for my loving wife that supports my adventures, two amazing little boys, a loving family, a courageous Mom.. a Dad who I greatly admire.. and a God that has created such a beautiful land for me to see his amazing handy work!
Soli Deo Gloria.
Video Recap
This ride report is also on ADVrider.com.