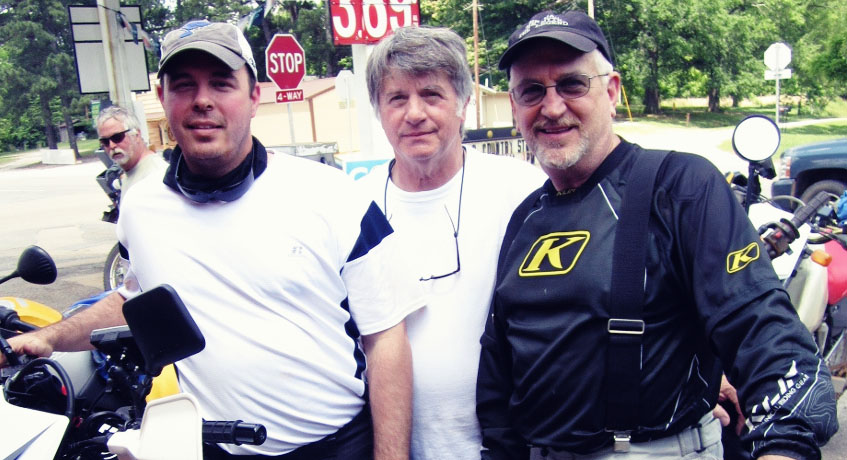 20 Aug 2012

Sam Correro Appreciation Ride
Back in May I took a trip with Mark "BigDog" Sampson down to Mississippi to show our support for what incredible efforts Sam Correro achieved by creating the Trans-America Trail.  Just about every ADVrider knows about the TAT or has rode parts of it. If you are clueless to what the TAT is, then check out TransAmTrail.com! The TAT is a part of motorcycle adventure history and, hopefully, forever in it's future.
BigDog and I took two days to get down to Corinth, MS, about 500 miles of back country roads and it was awesome! You'll see my footage of this in a future project I'm working on… ADVLegends.com. But for now you can check out Mark's ride report of our trip down. I had a ball riding with BigDog again and then getting to meet Sam was very cool.  Lake Hill Motors put on the ride for Sam, and that crew is just top notch! I sure wish I had a shop like that by me.. great people that love to ride!
Before time completely slips away on me, I've put this little video together of the ride we did in the Mississippi Hill Country. You'll get to meet Sam and get a glimpse of the riding down there. This is one ride I'll never forget… just too many people and things that happened that leaves a mark on ya! Special thanks to Homer for putting me and BigDog up in his toy hauler for two nights!
Looking back on this ride.. this next photo is my favorite one. It just sums up how BigDog and I rode… without a care in the world! Even if we had to pick up two bikes.. then we just did and laughed…haha!
And now the footage… anyone who rides in a group of riders, please pay attention to Sam's instructions at the 3:45min mark.. complying to these little tips will make riding in a group actually enjoyable.. haha!