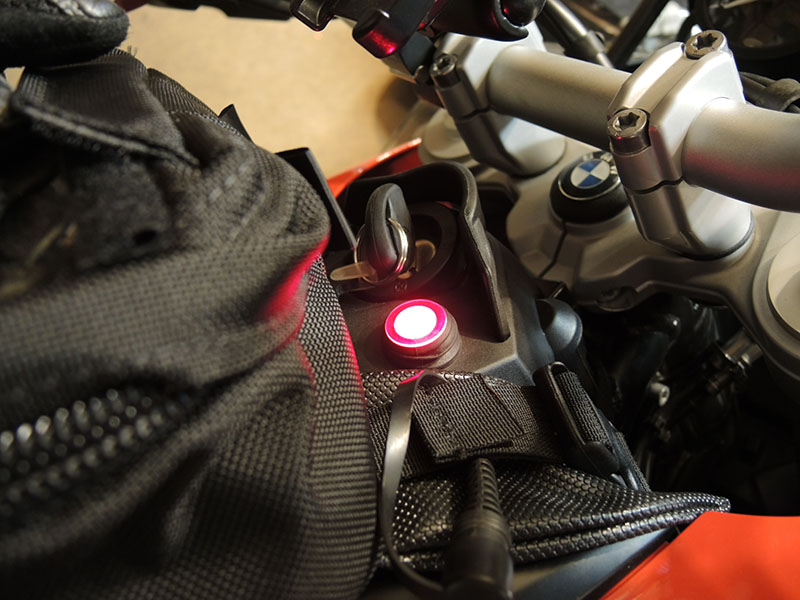 08 Apr 2015

LED Rocker Switch // F800GSA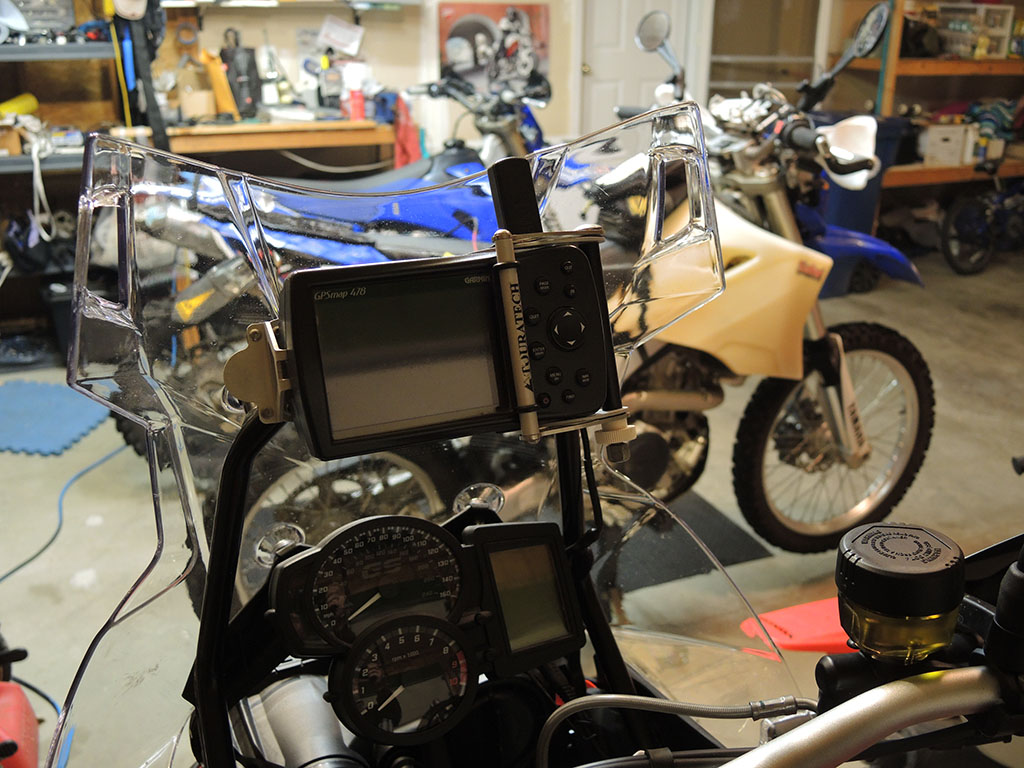 On an earlier post, I showed how I mounted my Garmin 478 GPS on my F800GS Adventure. The power feed right from the battery & my GPS power cable has a SAE plug for easy disconnect. I run this GPS on my WR250R & MotoVan.
I soon found out I wanted a switch between the GPS and battery. A way I can manually kill power to the GPS when the bike is off so the battery doesn't continuously charge. You ask, why not have it a switched circuit off the bike or connect to the all-ready-present GPS Canbus connector? Simple… I want a circuit I can leave on when I want to, when stopped on the trail and need to look around on my GPS or I want to add another aux. device, battery tender, or whatever…. I like that freedom!
The issue with my setup is.. if I forget to unplug my GPS it could drain the battery especially if you have a bad GPS battery.. the unit will continually try to charge the battery and thus run the motorcycle battery dead. How do I know…. well lets just say I know 🙂
A simple rocker switch wouldn't do the trick, as I'd probably forget to turn that off too… So I picked up a few LED rocker switches from Vetco.net. Here's the switch details:
Rocker Switch
Switch: SPST Waterproof Round Rocker Switch (On-Off) 16A Red 12V
Part Number: NTE-54-527W
Price: $5.40
And if you're a F800GS owner you may already know that the collar around the ignition switch already has a nice place for another Powerlet or in my case, my rocker switch!
Using a nice step drill bit, you can get the desired cutout perfect for the switch.
You will need to put a notch on the inside edge of your hole which will keep the switch from rotating.
Once you are happy with the location, apply some clear silicone to seal it and help keep it in place.
I only use the best electrical motorcycle connectors, which are from Jim at Eastern Beaver! He always has the exact part I need, no matter what the farkle is.  He also carries a lot of OEM connectors. For this I decided to use heavy duty waterproof connectors, Packard-Delphi Metri-Pack 280s. The photo below shows you how the pieces come together…
This things are awesome and seal up very nice! Here's a few shots of connecting the wires up to these connectors.
Lookin' so nice! All done, now time to solder up the switch…
I soldered up female terminals for the switch and shrink wrap them up nice and tight.
How's it Wired UP?!
On the rocker switch there are three terminals, each labeled #1, #2, #3. You will notice #3 is copper, this is your ground. Source power (from battery) is #1 terminal, and your device power (going to GPS) is #2. This allows the LED to light up when you flip the switch!
Here are the pigtails that run from the battery to switch to SAE connector for my GPS. I kept with the SAE connector because they are very sturdy for those millions of times I'll be moving my GPS to a different bike, vehicle or power cable. Notice I wired the pigtails in a way that I could connect them together to use them as battery-to-SAE wire if I needed to, great for in an emergency!
And here she is all lit up on my bike. The glow of the red LED does not interfere with my vision at night, mostly because my tank bag blocks it.
This little mod has worked out exactly how I hoped it would. I now see that glaring red light when I hop off my bike so to never run the battery dead, and it just looks cool! It also is a very versatile circuit for anything else I may need in the future.
Adventure On!