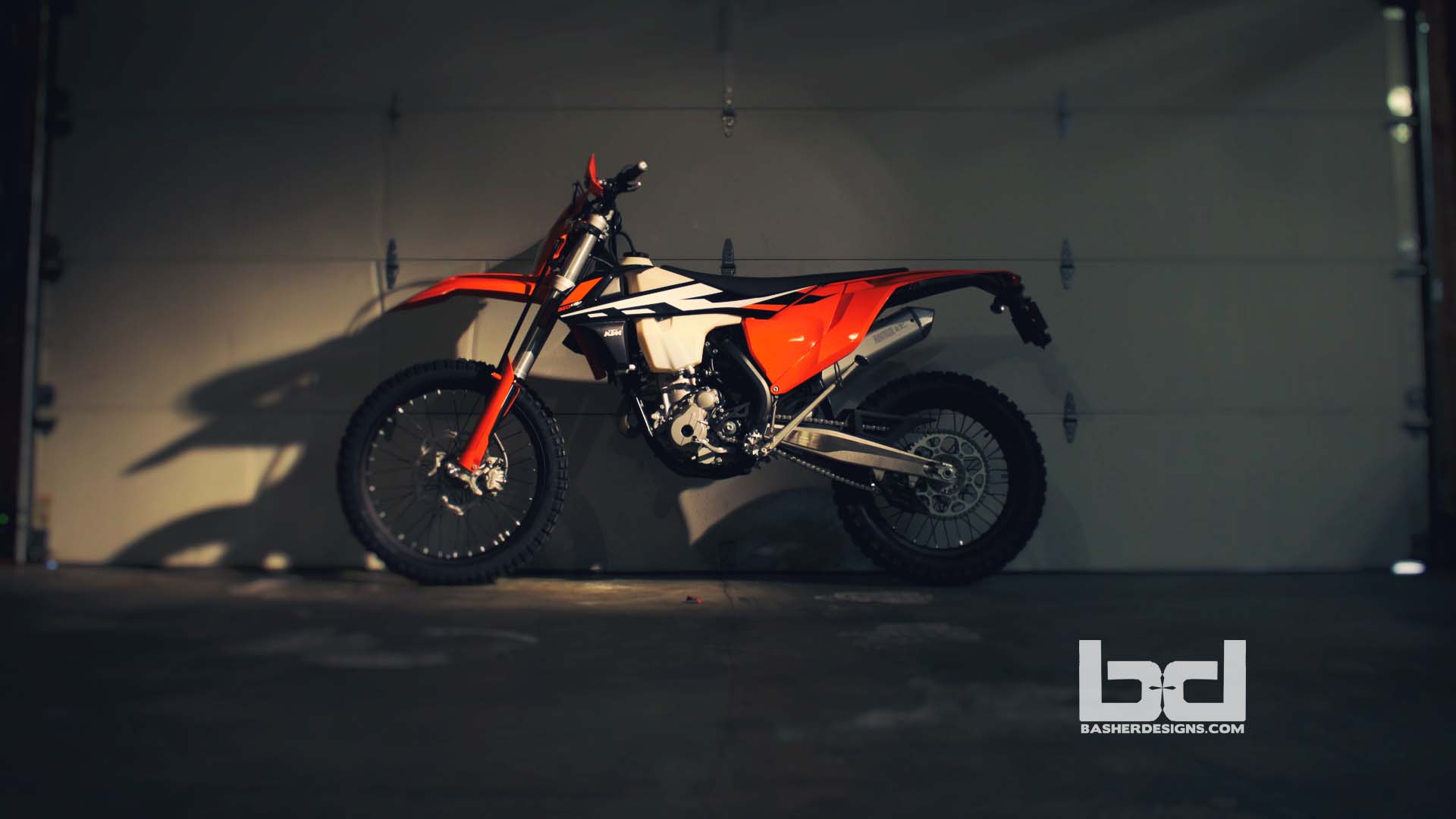 26 Jan 2017

Drank the Orange Kook-Aid!
My Trek to Orange
It's true.  I drank the orange kool-aid…. and its as good as everyone has said!
So I've been riding Yamaha for several years, have been on some amazing trips on my WR250R and trail ride on my WR250F. These are great bikes! Over the last few years I've been riding a lot with my boys..
And a lot with my buddy Aaron, out in Utah at 3 Step Hideaway! That's him on the KTM, me on my Yamaha WR250F.
I've also been riding my F800GSA a lot.. with BigDog on his Africa Twin..
The bike I haven't ridden much.. my WR250R?!  I put 500 miles on it in 18 months.. so obviously my riding has changed, more trails and more ADV touring.
Who's to Blame
First, KTM. Second, my ridding buddies Aaron, Scott(HighFive) and Mark(BigDog). I've ridden Aaron's KTM 300 XCW and it's awesome! A fabulous bike and so completely light and powerful! Then I go on a ride with BigDog and HighFive and HighFive INSISTS that I ride is Baja Beast.. a dialed in 450 XC-W Six Days..
Luckily were were on a good knobbie section of the ride, so I got to see how it handled on the rough stuff. I threw a leg over, started it.. and twisted the throttle. I didn't stop smiling until I had to climb back on my WRR. The combined power delivery, suspension, and without a doubt HighFive's attention to details on his bike pretty much solidified what Aaron has been telling me for a couple years. Sell the two Yammies and get a KTM that will do both! As I went to sleep that night, I kept hearing the words of wisdom HighFive, a past WR250R owner as well, kept telling me..
Drink the kool-aid, it's that good!
He recommended I take a look at the KTM 350 EXC-F.. come to find out my friend BigDog already has one, a sweet 2016 model!
So, you guessed it.. I sold my WR250R!!??!!
Yes, I've put a lot of time and effort into my WRR.. and I still think its a fabulous bike!! Here's the new owner of my WR250R.. Good luck Jeremy!
Why I sold it… my riding style has evolved into something it can't offer as well as I'd like. Riding more technical trails and less ADV rides, so it just sat in the garage. It was time to give it a good home and get a bike that fits my riding nowadays. One with more power, great suspension, super light.. and did I say more power.
The KTM 350 EXC-F
In it's more aggressive form..
Highlights:
NEW 350 EXC-F engine has been redesigned in order to make the new powerplant more compact and lighter while delivering class-leading torque and power figures over the entire rev range
NEW Cylinder head with lightened camshafts, DLC coated finger followers and a reworked timing drive for outstanding power throughout the 12,800 rpm rev range
NEW 6mm Shorter connecting rod for a vertically compact engine with snappy response
NEW Engine cases with a centralized shaft configuration, moving the crankshaft closer to the bike's center of gravity while shortening the engine by 20mm.
NEW Engine covers feature an advanced surface structure to reduce wear for the rider's boots
NEW 42mm Keihin throttle body for instant throttle response and crisp fueling
NEW 6-speed wide ratio transmission is perfectly suited for off-road duty
NEW Hydraulically operated DDS clutch features a damping system for better traction and durability
NEW Lightweight Chromoly steel frame provides high torsional rigidity with less longitudinal stiffness resulting in excellent handling and energy absorption
NEW WP Xplor 48 upside-down split front fork has outstanding damping characteristics and better bottoming resistance with less weight
NEW WP Xplor PDS rear suspension is more progressive and is lighter
NEW shock mounting geometry is matched to the new swingarm with a more centered location for nearly symmetrical loads to the swing arm
NEW Forged aluminum triple clamp with handlebar positions and a 22mm offset for precise handling
NEW ODI grips that feature a lock-on design for the left grip and a vulcanized grip on the throttle side
NEW 10mm longer rear brake pedal, smaller rear brake piston and lighter disks provide class leading brake performance and feel
NEW "No Dirt" footpeg design keeps the pegs pivot from becoming clogged, ensuring the footpeg is always in the correct position.
NEW CNC machined hubs, high-end Giant rims and Continental TKC-80 tires for maximum strength and traction on and off the road
NEW Airbox and filter design provides maximum performance with fast "no tools" air filter changes
NEW Bodywork with perfect ergonomics and contact points for maximum control and comfort
NEW Cooling system features stiffer radiators with better cooling efficiency while new radiator guards provide crash protection
NEW 2.25 gallon see-through polyethylene tank provides the range needed for extended rides
NEW "No Dirt" shift lever prevents dirt from fouling the lever joint to ensure proper shifting in any condition
Specifications
Engine Type: Single Cylinder, 4-Stroke
Displacement: 349.7 cc
Bore/Stroke: 88 / 57.5 mm
Starter: Electric, Lithium Ion 12 V 2 Ah
Transmission: 6 Gears, wide ratio
Fuel System: Keihin EFI, 42 mm
Lubrication: Pressure Lubrication with 2 Pumps
Primary Ratio: 24:73
Final Drive: 14:52
Cooling: Liquid Cooling
Clutch: Wet Multi-Disc DD-Clutch, Brembo Hydraulics
Ignition: Keihin EMS
Frame: Central Double-Cradle Type 25CrMo4 Steel
Subframe: Aluminum
Handlebar: Neken, Aluminum Ø 28/22mm
Front Suspension: WP Xplor USD Ø 48mm
Rear Suspension: WP Xplor PDS Monoshock
Suspension Travel Front/Rear: 300 mm/11.8 in; 310 mm/12.2 in
Front/Rear Brakes: Disc Brake 260 mm; 220 mm
Front/Rear Rims: 1.60 x 21", 2.15 x 18" Giant
Front/Rear Tires: 90/90-21"; 120/100-18" Continental TKC-80
Chain: 5/8 x 1/4 in
Silencer: Aluminum
Steering Head Angle: 26.5º
Triple Clamp Offset: 22 mm
Wheelbase: 1,482mm ± 10 mm / 58.3 ± 0.4 in
Ground Clearance: 370mm / 14.6 in
Seat Height: 960 mm / 37.8 in
Tank Capacity, Approx: 8.5 L / 2.25 gal
Weight (without fuel), Approx: 107.5 kg / 237 lbs
There was a HUGE delay in the delivery of this bike.. they've been available to overseas buys since August 2016, but due to EPA crap, they didn't hit dealers till first of January 2017. I didn't care because I'd rather wait till after first of a new year to get a new bike. After calling several dealers about availability they all said the same thing.. "in the next two weeks." Two weeks later.. "oh, should be here in a week" Well it took about 6 weeks from my first inquiries.. finally one arrived at a local dealer and he ACTUALLY called me back on it. So I put a deposit down and got that thing..
The day I bought it..
Yep.. that's snow in the background! But what better time to farkle a bike than in the winter right!
With any new bike, the mods and farkles are slowly starting to hit the streets, this bike is completely new from the older models, so I'm excited to see what the wiser KTM guys come up with.. So far of what I've ridden on this bike, it's awesome! Great power, suspension is plush and it's just so sexy!
Stay tuned as I'll post up all the mods I perform on this bike and look forward to the new adventure!  For all the fellow WR250R owners, yes, I'll keep all my WRR info on my website as it has helped a lot of people and I really enjoyed owning the Yamaha WR250R! If you have any questions or comments on the WRR or new KTM 350 EXC-F, post them up below.
Ride Safe!