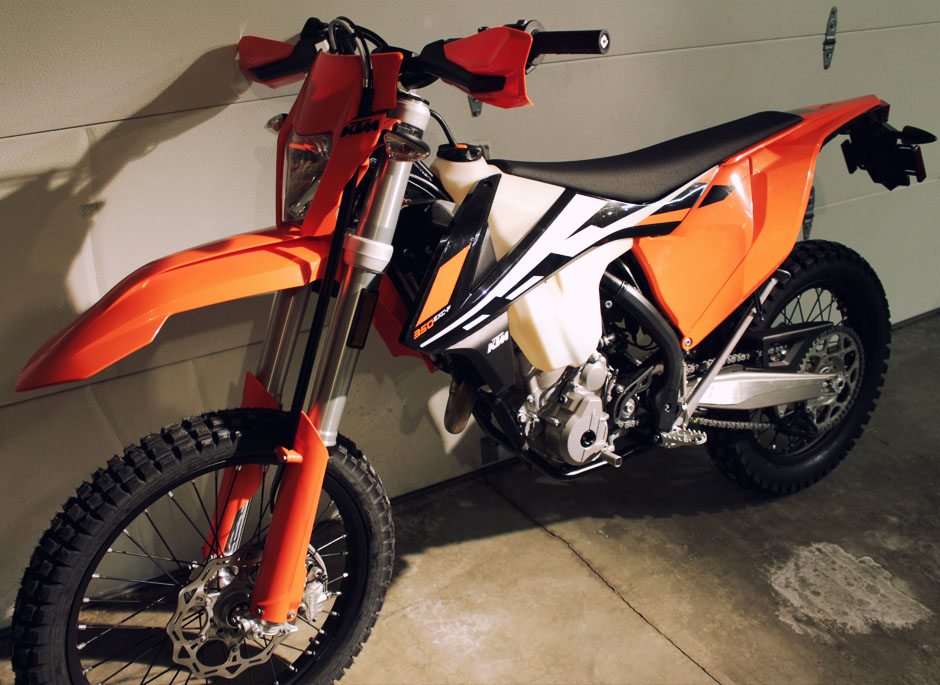 09 Mar 2017

KTM 3-Fiddy Talk #1

With any new bikes there are unknowns. Especially one that has been completely re-engineered by the manufacturer… KTM. They've reported only about 10% of the 2017 EXC-F's are the same as previous models.

I just wanted to make a post about my new bike.. maybe keep this a featured post.. one I continually add to. To start, I wanted to share a few need-to-know items if you are looking at the 350 EXC-F or have one you're starting to farkle. This is just my comments with mine.. and would love to hear from others!

Before I get into it – ThIS BiKE IS AWeSOME!!!

Now to share a few things I've learned about the 3-fiddy…
No Traction Control – No Mapping Switch
Yep.. it's true as of March 2017.. You, like me, read all the marketing announcements about the new EXC's, and how awesome, traction control & mapping switch for more aggressive riding when you want it.  I read it also on ktmusa.com, in fact here's a quote:
"And with an optional map switch you can select a stronger power curve and activate the unique traction control system for maximized grip"
Oh, now you can't find that on their website.. that's because it's removed on the United States version!
The reason I've read and heard about as to why no TC or Mapping switch is… once again California EPA regulations!! This bike was held up in customs due to EPA issues for months before it was finally released to dealers early-January 2017.
What does this mean for us?  Well, the dealers have programmed "acceptable" ECU mappings to all of the bikes and then have LOCKED the bikes down. When your purchase your bike, the dealer will register the bike with your information, it's even saved in the bike's computer. Just FYI for all you thieves out there!! As of just within the last week or so, other owners have said they have had their bikes re-mapped by the dealer with the "closed-course" mappings, but I've yet to see anyone with a TC/Map switch on their EXC here in the states. So I'm leaving my bike as is for now, I'm not going to ruin it because it's running even leaner than they say it already is?!?
IMPORTANT INFO!
People have stated the bike runs lean and any modification to the air box/exhaust will cause it to run even leaner, which means even hotter.  Some have seen their headers glowing red! So do not start drilling out the end cap screen, etc without doing YOUR homework. Don't take anyone's word for anything.. not this early into the life of these new EXC's. As far as I know this goes for the 500's as well. Not sure about the 250's.
KTM has taken their XCW-F and EXC-F models and combined them… so there are things they had to do to make this bike street legal here in the states. Some will annoy you but you will quickly see what KTM has tried to do. I don't completely blame them.. but better communication on these issues sure would be nice!
Stock the bike is very quiet.. for many this will not sit well, but for me I don't mind it. It has more than enough power and ripping it in the woods/trails, down creek roads only makes the bike even better being quieter, IMHO.
The KICKSTAND!
So annoying… Because of safety regs, there must be a kickstand kill switch that basically kills the bike if it's in gear and the kickstand is down.  OR how KTM got around adding the extra weight & electronics for this, is to force the kickstand to "pop-up" once the kickstand is off the ground. It's very very annoying, as soon as you move the bike, boom kickstand goes up.. Dealer's have complained because customers will lean the bike over feeling how light it is, this set it back down not knowing the kickstand has sprung up and .. *BOOM*.. bike falls over.
It's simple to fix..
Key Switch
I get it.. you just don't feel safe without a "key" for your dual sport motobike. While they did move the key to a different location from the 2016 EXC-F's, it's still in a bad spot when you go to add handguards. These are the Cycra CRM Racer kit handguards. Cycra's are great handguards(left photo below). If I were to do it over again, I'd get the standard Cycra Probends with standard U-mounts. Either way, the key is in the way.. so I've decided to remove the key all together, and get Cycra U-mounts instead of the CRM mounts. Note: In the photo on the right I did not completely re-install the headlight kit so it looks like farther off the bars.
Behind the Headlight
I'm not sure if this was a dealer thing or KTM… but do yourself a favor and remove the headlight assembly and clean up some of the wiring you'll find there. Mine was a bit crazy, a few wires were very tight when the wheel was hard right. The headlight is sooooo easy to remove, too rubberband straps and pulls right up. Awesome!
BIGGEST COMPLAINT
So my biggest complaint so far, even as small as it is, is the left control switch(horn, signal, hi/lo beam) KTM choose to use on this bike is fat! How fat is it? So fat, I couldn't get the clutch lever adjusted the way I like. When I pull the stock lever in, the adjuster knob would hit the control switch. Drove me nutz!
Talk #1 is Over
That's all for this episode of KTM 3-Fiddy Talk.. I'll be posting details on each of the mods you saw above so don't you worry!
Until our next "Talk" … Ride Safe!
Check out more KTM 3-Fiddy Posts