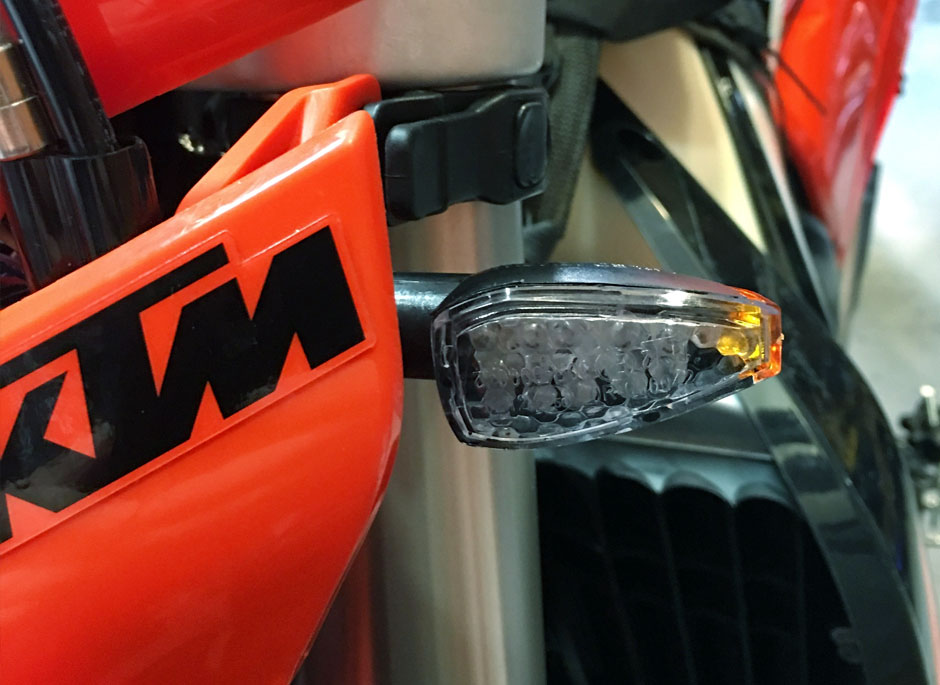 31 Mar 2017

Sicass Front LED Replacement // KTM 3-Fiddy
Sicass Racing Front LED Turn Signal Kit
For me the stock turn signals were just too big, and they would surely get ripped off the first trail ride out.. so I found a set that are exactly like the signals I had on my WR250R except they come from Sicass with stock wire connectors already on them. Once again from Sicass, truly plug-n-play…. keep reading!
Now, there are a few things that MUST be done to the EXC-Fs if you have gotten rid of all the bulb turn signals as I have. All my turn signals are now LEDs. The rear of my KTM has been replace with the PW Tail Kit which is awesome! A new flasher and a slight modification to the signal wiring. If you do not install the Indicator Wiring Kit, when you turn your signal on, ALL of your turn signals will flash at the same time.
Here's the part numbers from Sicass Racing:
If you purchase these parts from Sicass Racing, they include color photo instructions which are pretty good. Here you will be able to see larger photos and see how even I completed this install!
The Indicator Wiring kit is needed because "the KTM EXC's back-feed through the OEM indicator, this wiring kit corrects this issue and allows you to run LED turn signals and still use your stock turn signal indicator that is located on the dash board."
I've installed all of this and it works without a hitch.. here's a summary how-to of my installation.
4. Installing Wiring Kit
This install is not a plug-n-play, you need to be comfortable with wiring, crimping, etc. I solder all of my connectors just for that extra assurance. Don't worry the instructions Sicass includes are pretty good with color photos. But I thought I'd show my steps as well.
11. Cut & Terminate Purple Wire
Take the purple wire from the bulb and cut it just like the black wire. Terminate a female connector on the bike side and a male connector on the bulb side. Optionally, solder the connectors to the wire.
Connect the other YELLOW male connector on the Y wire to the purple female connector.
That's it! Test everything, make sure its working correctly. Carefully tuck your wires up and reinstall the headlight assembly… Now those turn signals will be enough for the little street riding this bike will see and won't get broken the first drop! Ride Safe!