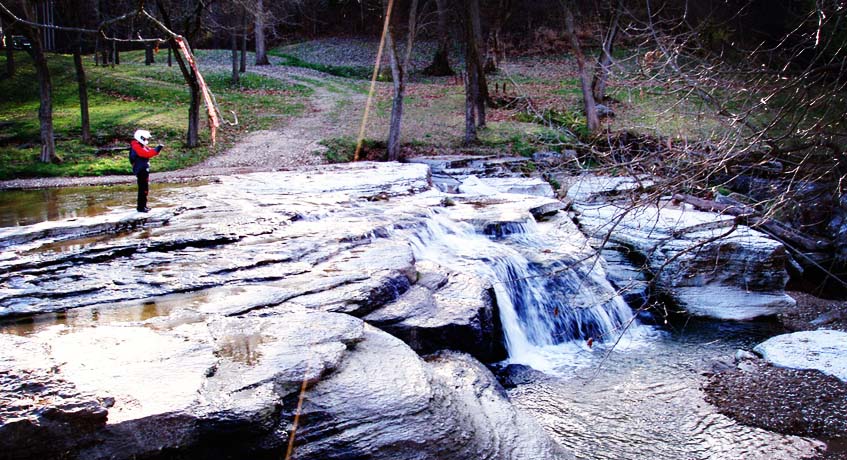 29 Nov 2009

Clarksville Ferry Ride (MO, IL)

It was a brisk morning as I headed out to meet a group of riders at the Phillip 66 station in Moscow Mills. ThumperDRZ had planned a good solid day of riding for us, and indeed he did, total miles for me was 273 miles! I didn't get as many photos as I wanted, cuz I was on the throttle a lot!
The day before I had sent the itinerary out to inmate Zdts and Gravytrain but never heard back from them.  So around 8:15am I pull up the pump to fill up and about 30 seconds later, Gravy rides up to the pump next to me… I was glad to see him!  He's a good rider and has done one heck of a job on his XR650L.  We filled up and rolled the bikes over to the other few guys who had already filled up.  It was awesome to meet so many riders for the first time.
The Crew
ThumperDRZ (our leader.. only saw him get loose one time!), svr700 & his brother, Royal Coachman, Oh2RideMore, Cumminsman76, Gravytrain, Soarski, Rordog, Toondebt11, & me.
The route took us on a lot of gravel and more slab than we wanted due to a few road closings.   Making our way northwest there were some really cool gravel/creek roads we ran and the first creek crossing was awesome!  I had to look back to see how the big bikes made it through and they took this one just fine.   After a road closure at William Logan Wildlife area, we routed around and headed to Clarksville to gas up, then found our next road closure that put us back on pavement.
We road fast north to Louisiana to cross the Mississippi River, turned on a few back roads and saw this mighty machinary.
N39 33.029 W91 02.322
It's an old dredger, some farmer came over to shew us away and Thumper told him we were just looking at the dredger, he immediately turned to nice and told us about this old piece of history.  Very cool and the fact that it walked on feet underneath it is fascinating.
Next up, just a little jaunt from the dredger was this enormous Windturbine…
N39 37.147 W90 50.806
Everyone was hungry so we headed over to Washington for a burger and some shop talk.  Moving southeast we hit some great gravel and a very cool creek crossing where we had one small turn signal casualty on a big bike, luckily for the other big bikes there was a way around it.  Just shortly after that crossing we hit a crossing that went through some old Railroad tunnels, that was cool!
After a few miles of some backroad fast gravel awesomeness.. we stop here! ThumperDRZ snag'n a few shots.
ThumperDRZ took this for BigDog
As you can see the sun was going down on us, so we had to bust it south, were planned on riding through Pere Marquette Park, stop at the look out then on to the ferry rides back to Missouri.  That we did!
Daylight was fading so we rode through the park and on to the ferry rides over to Missouri.
The way home was uneventful, I followed Gravy home on I-70 because he had a loose wire in his tail light… I hate the highways! But we had to get home fast!  It was a great ride, lots of miles, lots of fun, no spills and everyone wanting to run that route again with more daylight… nice ride boys!