16 Feb 2010

"Ride With GPS" – Route Planning Tool

Chris from EverydayRiding.org suggested I check this site out called Ride With GPS, and boy, am I glad.  Its a nifty website for route planning and trip histogram that uses Google Maps and some amazing analytical data.  I've really come to love this site, it sure makes creating routes and tracking my completed rides much easier.  You can upload your gpx files to the site and you'll get some good analytical data about that ride.  I uploaded several of my rides and here's what my profile summary looks like when I login:

One of the feature I like the most is how easy it is to take a gpx file from your GPS load it to Ride With GPS and view it on Google Maps.  You can then share the ride with friends or choose to keep it private.  Note that by default files you upload are set to 'Public' so I changed all mine to private.  I since emailed one of the creators about allowing only certain folks on your buddy list to view routes and he said those features are in the works!
You can also create new routes from Ride With GPS and then export it as a gpx file to load to your GPS unit.  There is also a 'Sync with GPS' option but I have yet to try this.
Below is a view of one of my rides I've uploaded to give you an idea of the route log view: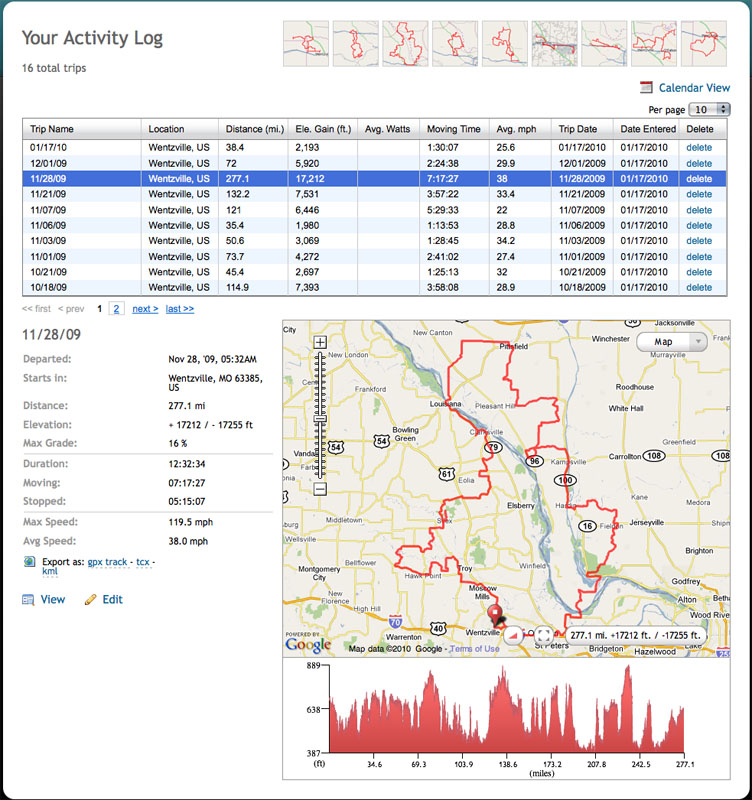 There are too many features to list from route creation that creates a cut sheet automatically, import routes into Mapsource as a route or track.  Selecting what motorcycle or bike you road on the trip as well as what gear you took with you. Upload gpx, tcx or kml files as well as exporting to these formats.  Its a very good tool just to go from Mapsource to Google Maps or Earth very easily.  Do yourself a favor and just check it out.  I find it just as easy if not easier to create routes in Ride With GPS than Mapsource.  And its free (for now)!
Features from their website:
Plan Rides
Draw routes on a map before you ride, then download to your GPS unit for turn-by-turn directions
See elevation profile as you draw, so you know how difficult the ride will be before you head out
No sign-up required, no GPS required
Log Activity
Upload your GPX or TCX files
See your activities on a calendar
Activity summary shows weekly, monthly, and yearly totals
Sign up for a free account to begin
Analyze Data
See a graph of your speed, cadence, heart rate, and more
Zoom in to a sub-section of a route and see metrics for just that section
Sort your routes by location, distance, elevation gain, and more
I have no affiliation with these guys, just a very cool tool that has made my ride planning much easier!  Let me know what you think of the site or if you learn any cool tricks with it.