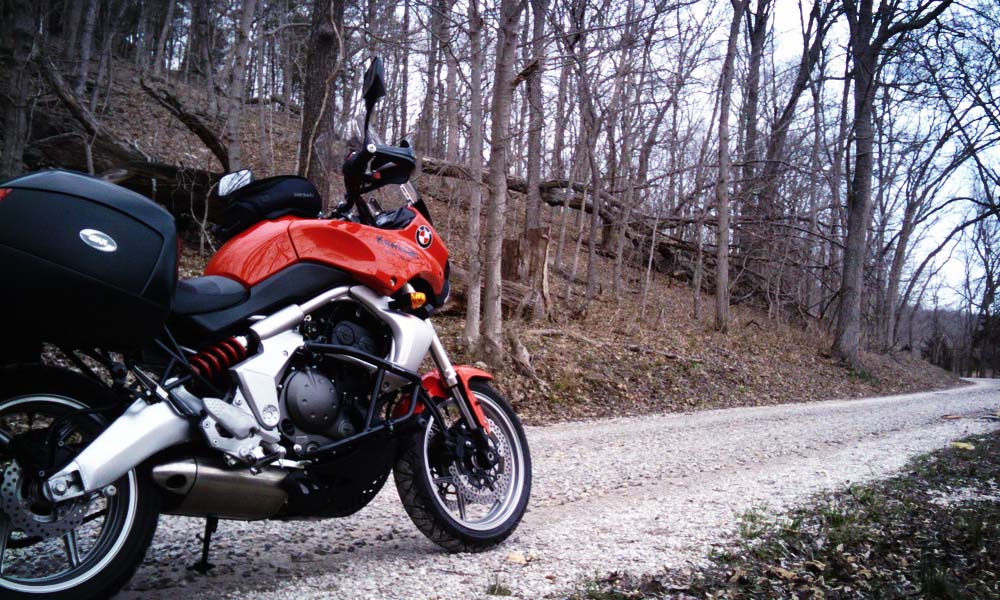 02 Sep 2010

Trip to Kansas – New Bike!

Motorcycling has captured me.  Of any hobby I've ever had, this one tops them all.  Growing up, I was the kid that rode his bicycle trying to keep up with the kids that had motors on theirs.  I bought my first dirt bike in 2007, my first street legal dirt bike last year in September, and now my first street bike.  Just like the Yamaha WR250R, after lots of research I knew the Kawasaki Versys was the bike for me.

After looking for a Versys for a long while, my wife says "why don't you put on the forums that you're looking for one.." so that's what I did.  And a week or so later, a fellow ADVrider inmate sent me a message about his 2008 Versys that he was thinking about selling.  Him and his wife talked it over and it was on the market.. I had first dibs on it!  He has decided he wants to pick up a Ural Patrol and farkle it up.. something different.  He sent me photos of this bike.. and I just couldn't believe how clean it was and how much work he'd done to it.  Every farkle I'd ever put on this bike was already on it!  So, I had to call him up and see if I even trusted him.. after a long phone call this was my kinda guy!  And buying a bike out-of-town makes it much easier when you really like the guy selling it.

We decided we'd make a small family vacation out of the trip out west to Kansas City, Kansas… packed up and headed west!
The boys had snacks and a few movies…
About 8pm we hit Kansas City, MO.. the Chiefs were playing too…
About 30 minutes later we made it to our hotel.. the Hampton Inn right at the Legends shopping mall.  Very nice!  The boys were having a ball, riding the elevator, looking in the snack machines, using the fancy room key cards. I remember when I was young and my Mom & Dad would take us kids to a hotel, we thought it was so awesome.. heck it could of been right down the street from home, but to us it was forever away…
We needed ice cream, so we just started walking and look what we found!
One problem.. they needed to make more chocolate… so we waited!
Finally.. we put out orders in..
These little dudes where happy.. we ate as much as we could then headed back to the hotel room…
Well, we were almost to the hotel and Brave drops his ice cream on the ground.. SPLAT! all over the place.. hahaha!
We all had a good laugh and went back to the room to jump on the beds.. I mean get to sleep!  We would head over and pick the bike up in the morning and then be tourists for the rest of the day.  It was great meeting Brian and his wife, just great people… he showed me all the mods he did to the bike, I could tell he took pride in his work.  I admire that and I feel much safer on this bike because of it! Thanks Brian!
the Kawasaki Versys I would be riding home….
One place I wanted to take the boys was T-Rex Cafe.. man this place was awesome!
T-Rex Toes…
And we couldn't leave this prehistoric wonderland without some souvenirs !! The boys build their own dinosaurs.. they had a lot of fun bringing them to life.. very cool.
Brave's new buddy…Spikes!
Brayden.. well.. he always comes up with crazy stuff like this.. meet Ceratop!
Then we had to make everyone happy.. so we took Mom shopping.. she shopped and we played…
Enough of this shopping .. its time to go play.. So we headed over to Dave & Busters. You gotta start them young on a bike.. so I've heard..
That night we all went for a swim in the hotel pool and then crashed out.. it was late, we were wiped out from all the walking and playing that day.  The next morning we ate some hotel breakfast and took Mommy shopping again.. my wife is very frugal.. I think the whole trip she only bought a couple earrings.. buy 2 get 1 free! I'm blessed to have her. We headed over to this HUGE store.. Nebraska Furniture Mart, not sure why it's not called Kansas Furniture Mart?!?  But it was a very cool store.. like a super center with everything you need for the house and more!
Another place I wanted to go on this trip was Backfire BBQ, a restaurant of the Tutel's, Paul, Paul Jr. & Mikey.  We'll even if its not it's still a cool place.  And as a side note, it's really sad what's going on with Paul Sr. & Paul Jr.  Family is just too important!
I love BBQ and I really like motorcycles.. so we just had to eat here for lunch before we head home..
MmmmMmmm…
MmmmMmmmm…my wife looking good.. as always.
cuz she was about to dig into this..
For me.. yummy BBQ sandwich..
With our bellies full it was time to head home.  I changed into my ATGATT and we got on the rode… 222 miles back to the house…
My beloved WR250R now has a friend… I'd still sell the Versys before I'd let go the WR, no question about it !!  More about the Versys as I get acquainted with it.  After the 222 miles back home, I'll be shortening the bars and smaller grips.. other than that.. this thing just hums along! I'm very, very happy with it so far.. love the riding position and the engine is a dream.
I look forward to commuting to work on this new bike, 60 miles a day on a bike is much more of an adventure than sitting in my truck falling asleep everyday… as another dimension to motorcycling comes to life; I hope to become a better rider, gain more respect for the sport and enjoy God's beautiful creation more… hopefully partake in a weekend getaway with my wife, a little 2up camping.. shall we!?!