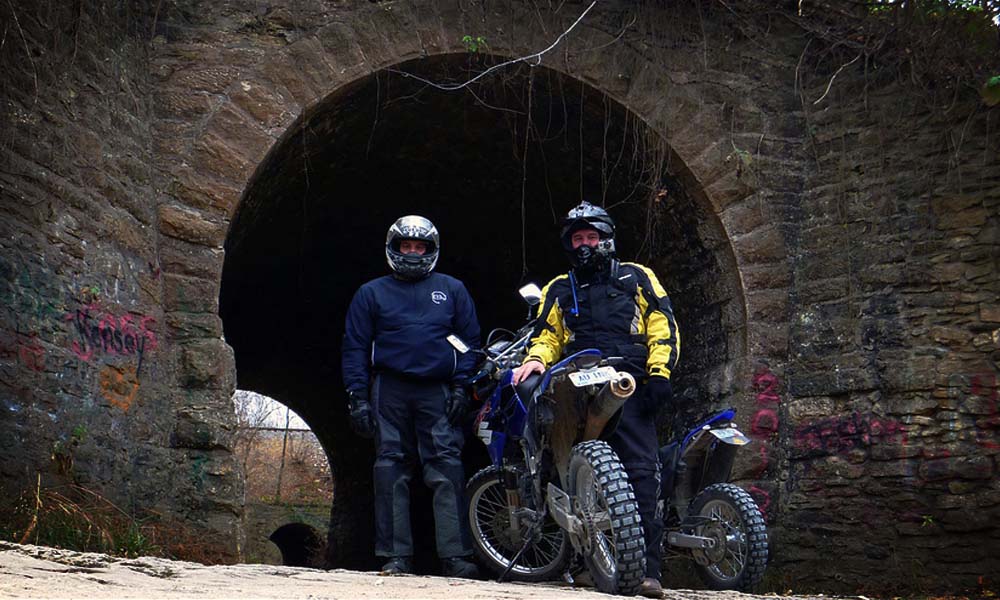 25 Nov 2010

"Punch Winter in the Face" Ride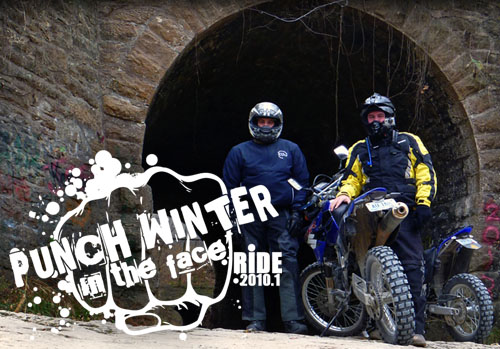 Burner(left) and I(right) met back when I was in 3rd grade.  He was a grade ahead of me.  If you ask me it was a divine introduction, cuz I was the new kid on the playground and Aaron just came over to me and we been best buds since.  We've done life together, been through some very hard times and some super awesome times.  From riding bikes to hockey and now riding motorbikes. It seems we call each other almost every day, just to chat and stay connected.
Last Saturday, Nov. 13, 2010 we had the chance to get out and ride all day together.  Due to the business of life we haven't gotten to get out on rides together as much as we'd like and talk about. The plan was to meet at my house at 7:30am to embark on a journey up north on the Missouri side of the Mississippi, cross into Illinois up in Louisiana, MO and then head down south on the Illinois side.  Hop on a ferry back to Missouri then dinner and depart ways for our respective homes.
We left my drive way and headed north, taking us along some nice river roads and Old Highway 79.  Along the way we found some neat trails and rode on the banks of a pond right off Glacial Sand Rd. Here's the video,
Video Part 1: "Heading North"
We would forge on, saw a train, I just love trains and then thru the town of Winfield, MO where a boy collecting for some kinda charity told me he loved my bike.  I thought that was neat. By the time we got up to Louisiana, MO we needed to stop for gas.  We stopped at the Shell station, got a sandwich and chatted with the store clerk.  She thought we were just nutz for riding out in this weather. We watched a lot of deer hunters retreating because of the cold.. haha! Not us. By now, the temps were dropping and it was around 43 degrees out.  Btw, at 7am I checked weather.com and the forecast reported by 11am the sun would poke through and temps in the 50s.  As you'll see in these videos, the sun never came out and temps just kept dropping!
Video Part 2: "The Dredger"
Leaving the dredger, we head east.  There's this huge "fan" we need to check out.  It's quite impressive when you see it and hear it in person.  From there we continue on some great fast double-track which dumps us out to a cool creek crossing.
Video Part 3: "Huge Fan"
Our route continued southeast through a small town of Nebo, IL in Pike County. Heading east on some tarmac dumped us onto some great dirt roads.  We'd see a lot more of these great county roads, twisting along creeks leading towards the Illinois River.  One of the best finds on this ride are these two tunnels, pictured in the photo above.  More great double track winding through the valley, then turning to paved single road.  Let me just say, paved single lane twisties wondering like a creek can only mean one thing.. fun!!  Enjoy the last few minutes of this one.  Also, watch Burner twisting the throttle.. wheelies, speed shifting, etc. this will come into play later on…
Video Part 4: "Twin Tunnels"
This beauty of a road winds and dines us through several small creek crossings and ends with another hidden gem. A beautiful water fall.  Here's a photo from last years ride of the falls and ThumperDRZ.
Not much water flowing through it this time, but its still a sight to see no matter what!
Video Part 5: "A Water Fall"
Departing from the water fall, we continue back east a bit then south, which leads us to some of the best riding yet. Our route takes us on a great forest road.  This is a video I think I'll be watching several times this winter season!
Video Part 6: "Thru the Woods"
As we continue on, a cow patty covered road awaits us around a corner. Burner slides off the road but saves it in the grass. The smell was incredibly horrible! haha!  We are starting to be concerned about where we can get gas for Burner.  He's running the stock tank so I may or may not have forgotten his mileage isn't anywhere near mine with the Safari tank. Not to mention Mr. Heavy-Throttle-Wheelie-Miss-the-Turn Boy at the controls… hahaha!
Burner knew he was about out of gas, we stopped a few times to look for the closest gas station on my GPS.  Nothing, nadda. So we decided to head 6 miles south the Winfield Ferry to get us back over to Missouri for some gas. We arrive at Winfield Ferry to find it is closed.  Well, next stop.. the Golden Eagle Ferry another 14 mile south!  Hopefully we would make it to the ferry, be able to ride off of it and hit the gas station 2 miles from the ferry exit. That was the plan…
Video Part 7: "Get to the Ferry!"
As you can see we made it to the ferry, we even made it off the ferry.  But…. we did not make it to the gas station.  This image shows you how close we got!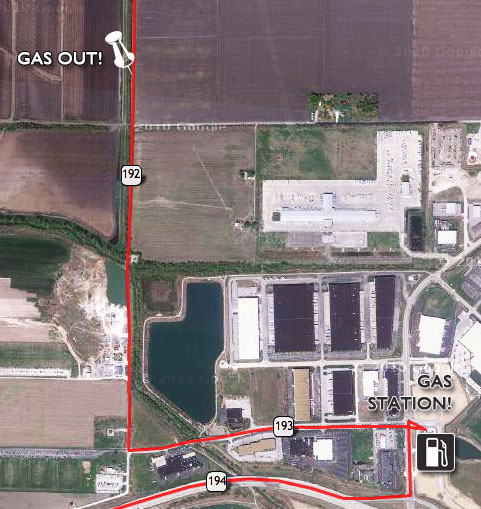 During the ferry ride my battery in the GoPro HD died….  So I was unable to capture footage of where we ran out of gas.. right on the road with no shoulders.  But looking back, it helped us get my bike at a higher elevation than Burner's so we could siphon gas out. Siphon tube.. of course! Well, kinda.. I cut my Camelbak hose off with my knife and we used it to transfer the gas. At this time of day, it was getting dark and much much colder, I'd say 40 degrees, blistering wind and it looked like rain.  We finally got enough gas transferred over, started the DRZ up and took off for the gas station.
After filling up the tanks, Burner treated me to mexican dinner and boy did we eat! It was a great day, cold but an adventure. We learned a lot that will help us on our trips we are going to plan for this coming riding season.  But I'm hopeful we'll get another "Punch Winter in the Face" Ride in before spring!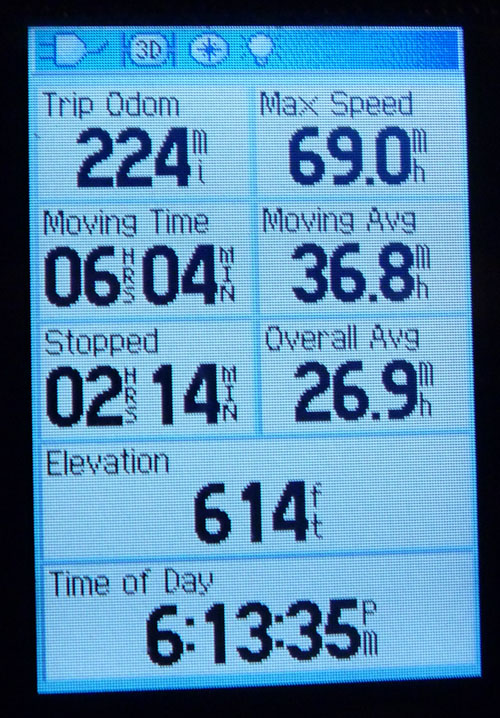 "Punch Winter in the Face" Ride 2010.1 Route