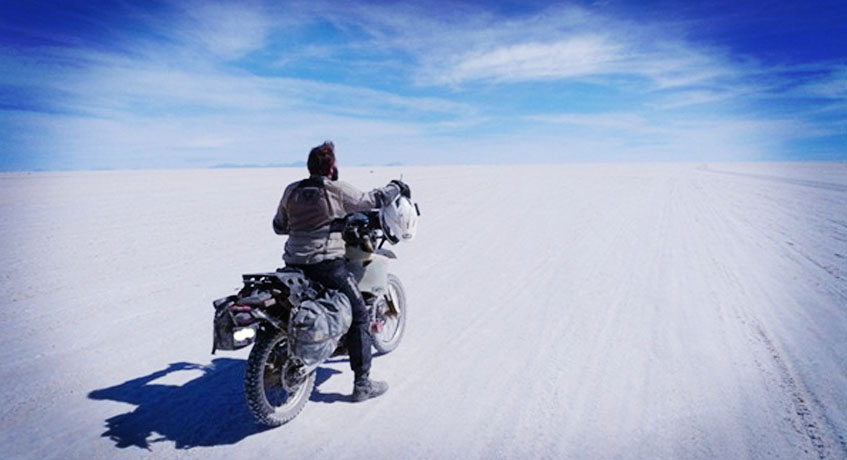 14 Jun 2011

30,000 Miles on a WR250R
As I checked my email this morning, I saw a post from fellow WR owner Jäger that mentioned how this guy takes the crown for "King of Adventure" on our favorite motorcycle, the Yamaha WR250R, traveling 30,000 miles in one trip. This sure peaked my curiosity, at first I thought, "yeah, right.. in one trip??" So I clicked the link and began reading the ride report from this fella, nicknamed "TheAgavePrince" and… wow, what an adventure indeed!
If you like the bike(WR250R), but are wondering whether she can pull off longer distance adventure travel, well, that's why I wrote this…she can. You should buy it and begin your adventure immediately. – TheAgravePrince
I really appreciated his honest review of the WR250R as a long distance adventure bike, he shares the pros and cons he dealt with during the trip. These are not just pros/cons he read somewhere on a forum or blog, but from his real-life experience.
His journey took him from Kansas all the way to very southern tip of South America, then turned around and came back… seems he's also very new to riding his WR, this statement just made me giggle with excitement for him,
In the parking lot of a cheap motel at 5 in the morning we reassembled it, packed all my luggage on and, for the first time (discounting the two times I tried to ride down an icy street for 50ft) I rode my WRR. I headed south to my friend in Texas, where we made some racks and sorted the whole of it out. On Jan 17, 2010 I crossed the border to Mexico, and kept going until I made it to Ushuaia, the southern-most city in the world, on the southern tip of South America. I then turned around and went back up, crossing every country in South America.
He also included in his report the mods he did to his WR as well as what he packed along for the trip. He states he's not much of a blogger or forum contributor, but I sure wish he'd give us a lot more of this trip… seems like it was amazing!
Thumbs up to you my friend, and thank you for sharing your story. It makes us that much more confident in the WR250R and that much more anxious for our next adventure on it!
See more photos and read his entire ride report here.