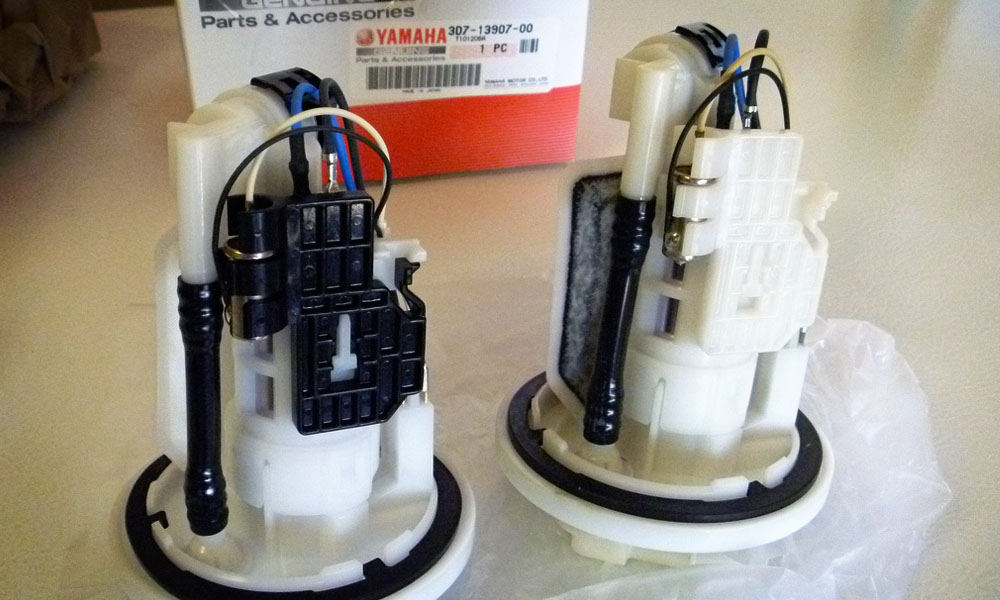 26 Jul 2011

WR Fuel Pump Replacement

Yes, the WR250R isn't perfect, well at least for a few '08 builds that is. As far as I know, newer models have not experienced any issues. The symptoms are the fuel pump stops pumping(of course) when riding in hot weather.  Once the pump cools down it will run until it gets hot again.  I experienced this issue first hand during our Idaho trip. One of the WRs on the trip wouldn't run until we let it cool down.. then we could run for a few miles and it'd die. Luckily we were able to get it to stay running once we hit tarmac.

Given that my WR is in that '08 build I purchased a new fuel pump a few months back & decided I'd throw it on. It's hot here in Missouri and I have a 2 day ride coming up… and I don't want to be stuck out on the trail!  So I took some photos and video while I did the replacement just for others who haven't pulled the pump out or wonder what it looks like. Enjoy…
Disconnecting the Fuel Pump
You will need to disconnect the wiring plug and the fuel line connector. It's very easy to do, but take your time. DON'T FORCE IT!
The wiring plug has a pinch release, simply push it in and wiggle it free.
The fuel line has a two step process to disconnect it. First, push the orange lock connector away from the tank. Next, on each side of the connector, squeeze in the blue buttons.. this will release the connector and you can wiggle it off the fuel pump inlet port.
Old Fuel Pump in Safari Tank
Pulling the old pump out of the tank
New Fuel Pump
I also decided to replace the fuel pump rubber gasket.
As well as the bolts, I remember one of them getting a bit munchy when I installed my Safari tank. They're cheap and it beats having one strip out.
New Pump(left) / Old Pump (right)
Installing New Fuel Pump
For the Safari tank, zip-tie the vacuum hose to the pump so the fuel in the Safari wings gets dumped to the fuel pump.
When tightening down the fuel pump bracket, be sure to tighten the bolts in a star pattern. Tighten one side, then the opposite side. Continuing in this pattern until its nice and snug. I also put blue Loctite on each bolt for assurance.
Once the pump is button down, it's time to replace the tank. Connect the fuel line connector back on the new pump as well as the wiring plug. For a better fitment of the Safari tank, I added a small piece of Kydex under the lower mount and a small space washer to the upper mount as show below.
Looking into the tank you see the new fuel pump right at home…
As you can see I did not lower the low-fuel sensor. I just felt like I like it where its at, it helps me be mindful of the others I ride with fuel needs. When my reserve light comes on, its time to stop for the others. Then, I put some fuel back in the tank, turn the key and instantly noticed the new fuel pump is VERY quiet compared to the original pump. Hit the start button and she started right up.
Now my WR should be ready for another 100,000 miles… at least that's my plan!  If you have any questions just let me know by commenting below.
I ordered my Yamaha parts from Service Honda! Here's some part #'s you may need…
FUEL PUMP COMP: 3D7-13907-00-00 Retail $312.73 Your price $213.29
BRACKET, FUEL PUMP: 3D7-24491-00-00 Retail $23.72 Your price $16.84 *
O-RING: 1S4-24486-00-00 Retail $21.93 Your price $15.58
BOLT, BUTTON HEAD: 92012-05016-00