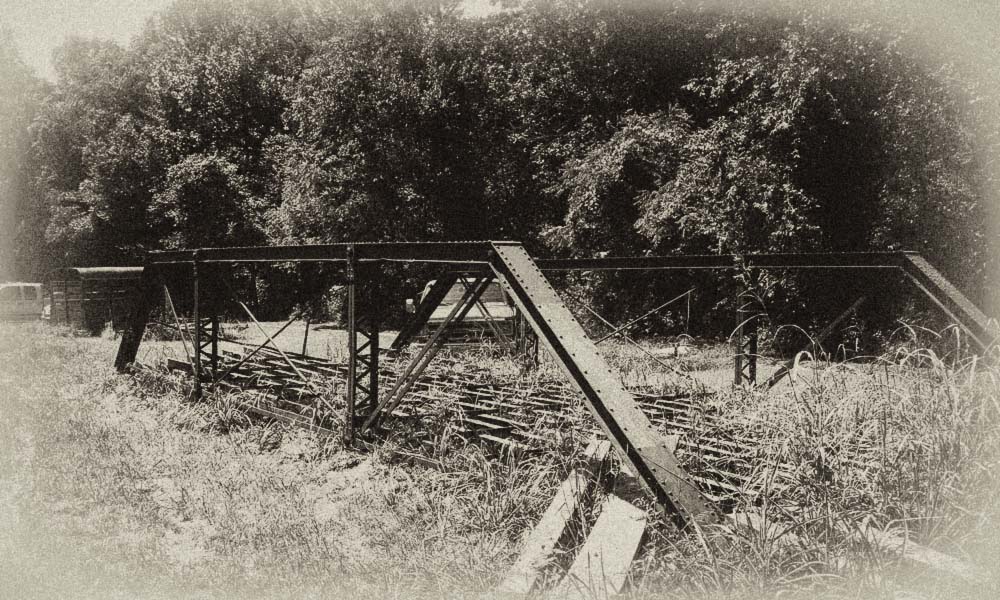 19 Dec 2011

Another Bridge Down
This isn't just an ordinary pile of wood planks…. no, they were part of history for well over 100 years…
One day back in August (8.13.11) of this year, I went for a ride on my Versys and my destination was to an old wooden pony truss bridge I had ridden over previously while heading south. That particular day I was riding on my WR250R and was in bit of a hurry to get south.  I routed along a road that I came upon this great little pony truss bridge but didn't have time to stop and take photos. So like all of us adventurers, I saved a waypoint on my GPS so I could come back later and really spend some time looking at this bridge.
Well, it was time to go back and see that bridge. This is the ride I took that day, heading back to that old little bridge.
To The Bridge
I remember it was along a great road just north of the Missouri river south of Hwy 94. After looking through my gps tracks I created a route that would take me along a scenic route down Dry Fork Rd and end at this bridge. My Versys hadn't been ridden all that much so I decided to take her out this time.. and put her to the test on these gravel roads…
Running up a few back roads out to Warrenton, I started the real ride on Dry Fork Road, at first Dry Fork doesn't look like its going to be as good as you think…
But in no time at all.. you see evidence of another great creek road… here's Dry Fork Creek that this road runs along side of, its another signature beautiful clear water Missouri creek.
Then, rounding a corner I meet up with this…
Everytime I come down this road, I stop at this amazing rock and just think about how its structure puts me in awe. Just how may thousands of years its been there and it seems to take me out of my current circumstances and reminds me of why riding is so incredible… or maybe I'm just amused by the little things of nature.
The road continues along the creek.. just looky there… getting better and better.
Soon, it gets a bit more remote.. boy I hope my Versys with these street tires don't end up bitting me for this one!
If you're a local and haven't ridden Dry Fork Rd, its definitely a good one, put it on your list when you come ride Charrette, Lost Creek & Massas. It's big bike friendly with a few low water crossings. Be careful of the hidden slime if theirs water on them. Slick as snot!
Still heading south, I took a right on Howard Branch Rd. Here's Knobby Path.. and I would NOT take the Versys on this gem of a road! Just beyond this photo, I wouldn't call it a road any more.. its a path.
As you can see.. it's a great place for the WR!
Continuing on.. I took a few more great roads.. man I love this stuff..
It was time for a break.. so I shut'er down and ate a snack on this bridge. It's always so peaceful out here on the trail..
So far the Versys is doing just fine on this gravel. One thing I absolutely love about the Versys is it feels like you're riding a dirt bike. You sit upright, can easily stand and ride, its set up allows for easy handling on or off road. I'm not planning to ever take it on the rough stuff I do my WR, but that's exactly why I bought it..
I end up on Hwy 94 at Smith Creek Rd., head west for a short bit and then turn onto Bernheimer Rd… this will take me to that bridge I can't wait to see….I double check my GPS for my waypoint.. yep there it is. BR-BernRd
Another great road that runs down along Clear Branch Creek… I'm getting so close and feelin' good…just can't wait to see this old bridge and do a little investigating around it.
I begin to slow down as I round the corner where the bridge is.. and then.. my heart drops………..
There, off in the distance… in the field.. surrounded by grass.. I see the skeletal remains..
I stop and just stare. Shut the engine off. Slowly remove my helmet and head over to the grave site.  I just can't believe it….
It's.. gone… just sitting in a field with a bunch of junk…
I take my time and look at the structural details of this old 1902 bridge… thats right, 1902!
Almost 110 years old…
Then.. I turn and look to my left.. across the field.. I see more of its remains.. and to the left, I get a glimpse of its replacement…
Wow.. the history this wood could speak.. serving the community for over 100 years, and serving it well I might add. I got back on my bike and rode closer.. then walk down to get a closer look.
This one-lane, pin-connected, 3-panel, half-hip Pratt pony truss bridge was built in 1902 by Stupp Brothers Bridge and Iron Co.  It's spanned 40 foot with a deck width of 13.5 feet. As of 2008 its average daily traffic was a mere 35! Bridgehunter reports its structural status was in very poor condition. But as I remember it, it was a beauty! Here's a photo via Bridgehunter: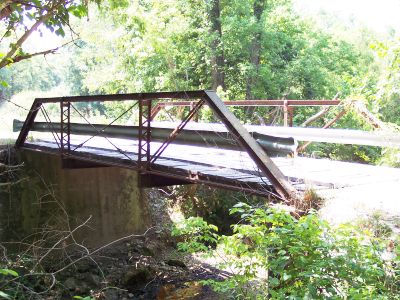 These new bridges… just don't do anything for me.. maybe I should find a little more appreciation for the technology these days.. but I don't know, it's gonna take a while…
 Riding Heals Sadness
I'm a bit disappointed at this point and surprised this bridge is lost forever… I figure the only way to make things better is to ride! So that's what I did..
I saw another waypoint I marked a while back for a little road that just looked interesting to me on maps.. so I headed that way. This dead end road ran across the Cullum Branch.. I was hoping for something special..
On my way running west on Hwy 94.. I saw this cemetery I've past a thousand times.. I rode up the grass drive to the sign and…. wow.. 1870!
Pinckney 1870.. that's a loong time ago.  Missouri History Lesson: In that same year, M. Lemma Barkeloo was the first woman lawyer in Missouri (St. Louis). She was the first woman trial lawyer in the United States, and the first woman lawyer to try a case in federal court. Crazy…
I continued down 94…the Versys eats this stuff up…
and here we go.. Gore Rd.
Then.. I come around a corner and see some old structures on the left..
This old barn sat here with so much character.. and some nice handy work to boot.
Then this old house on the same property.. its up for sale too.
It was so peacful back here.. I had to think that someone's elder parents lived here and after a long fruitful life.. their journey ends and the house goes up for sale.  The yard had been cut and pretty well taken care of.. probably in memory of..
Road ends here.. which is actually on the Katy Trail..
So I turn around and head back.. there's one other road I wanted to ride and that's Tower Rd out west in the Daniel Boone Conservation area.. I always planned on riding that road on the WR but never did.. so I headed out on 94 again.. I took Case Rd first.. it too was a neat ride.
Turned on Tower Rd, heading through the conservation area.. its a nice ride through the forest area. I decided I'd take break before ending my ride and heading home…
It was a sad but good day of riding…
And a lesson I've learned from this ride….. stop and take photos of any neat stuff I see while on my adventures. Because I'll never know if they'll be there the next time.. it could very well be the last time and the end of a piece of history!
.. another beautiful Missouri ride.
This ride report is also on ADVrider.com.