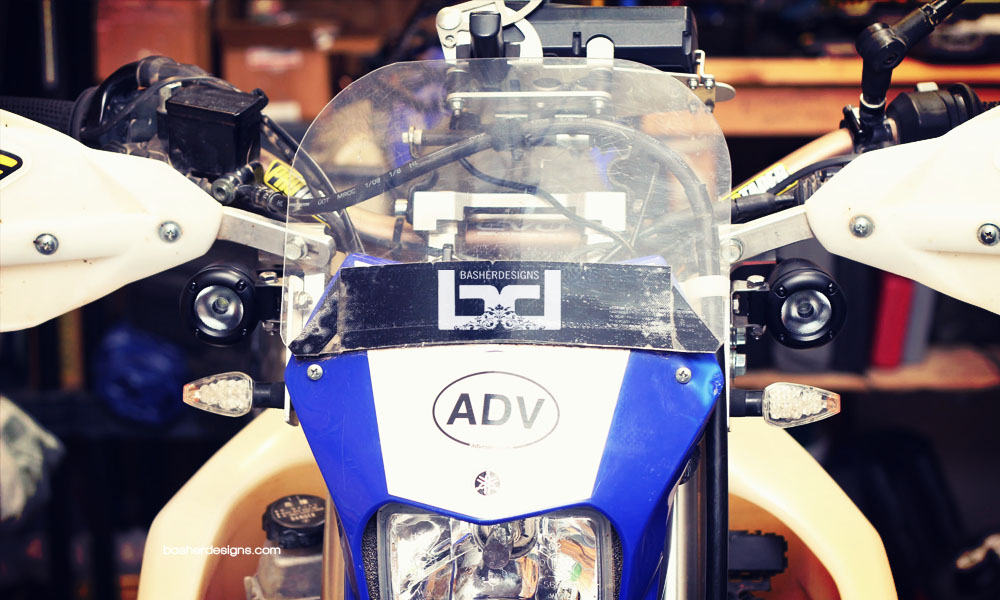 26 Mar 2013

WRR Winter Farkles!
After my last 3-day ride with BigDog in Dec. '12,  there's two thing I knew I had to add to my WR250R before 2013 riding season…. First, a larger screen GPS and second.. auxiliary lights!
BigDog has always labeled the Garmin 276C as the ADV'ers GPS of choice.. so I took his word on it and started looking for one at a decent price. Well.. they are getting very hard to find. It just so happened I was chatting with my riding buddy Pax and mentioned I was looking for a 276C to replace my 60CSx and he says he'd sell me his 478C if I was interested. Heck Yea! So I snag Pax's 478 from him and check that one off the list.
Next up was some LED auxiliary lights.. BigDog has some super bright ones on his KLR which came in handy on our ride, and has since put a set on his Terra 650. So I checked into them and as they are super bright they were out of my price range for what monies I had for winter farkling. But I did find another set that I'm very happy with so far, price and quality. They're a set of MondoMotos' MM10 CREE XM/L LED lights . Here's his thread on ADVrider Vendor forum, btw, he offers a small ADV discount as well.
Here's what you get in the box: (click photos to enlarge)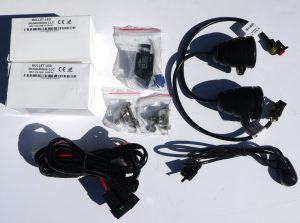 And dimensions for proper fitment: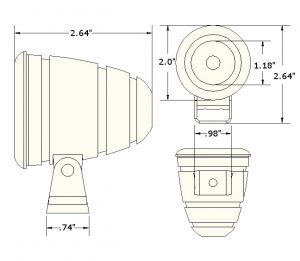 Bullet Lights
Light Switch
A few comments about this switch.. it works great, looks great, and has LEDs for when the lights are on or off. But… the only option they give you for mounting is a little sticky 2-sided tape. This isn't very useful when trying to mount it on your bars or near your left grip. So I'll be making my own mount for the switch or you can use a different switch, maybe a HDB integrated switch would work well if you run HDB clamps.
Get It Wired
Now its time to get these wires installed!
On my WR250R I run a Eastern Beaver 3CS fusebox and I have one switched circuit unused, so I'll be using that to run up front for powering my GPS and providing my LED switch a switched power connection. I have wire loom already run from my controls to my battery, so I'll pull my third 3CS circuit up threw that first.
Tape them up good..
Here's my wire loom, pushing these wires through was a breeze!
Now on to the lights wire harness, these wires will be up at my headlight:
And these are at the battery:
In order to pull the wires through the frame under my gas tank, I had to cut the wiring harness right here at the line:
Pull the wire harness from the front to back.. following the other wires…
With a little work I pulled them threw the wishbone…
Once I got the wire harness completely pulled through its time to reconnect the wire harness, remember I cut it in two pieces! How would I do that.. well with trusty ole' SAE connectors. I could of soldered them right together but I thought for "future" upgrades it may be nice to be able to disconnect these. You can do whatever you feel best.. So I begin to solder…
SAE Connectors can be bought at any auto parts store for a couple bucks…
And here they are at the seat compartment…ready to be reunited.
To help tuck the relay under the seat I also decided to cut the tab off the relay with my dremel…
Now that the wire harness is in place and I've pulled my 3CS circuit for my GPS, I solder the red wire at the switch connector to the hot of my 3CS. This will make sure that when the key is off, no power is getting to the lights. I also solder a SAE connector to the 3CS circuit to power my GPS.
** NOTE ** : Make sure the shielded plug of your SAE is the hot wire from your battery! This is the universal wiring of any SAE connector.
Before connecting any of the accessories.. I want to make sure that the circuits are getting proper voltage.. use a handy dandy digital multimeter to test. I got this one at Harbor Freight for a few bucks.
Woohoo.. got power!
Now I can mount my bullet lights… but wait.. where? Ah Ha.. I'll make a nice little mount out of aluminum to hold my LED lights, both aux and turn signals. Using Kydex I made a template to be sure my plan would work. Then, I transferred it to my aluminum stock..
Feel free to download the template PDF file – DOWNLOAD.
Using my jigsaw with a metal blade, cutting the pieces out was pretty easy…
To help drill the holes, us a punch to make a mark, this will allow accurate placement of the holes and help guide the drill bit.
Using my dremel, I clean up the cut edges a bit..
The mounting bolts for the light brackets are a bit long.. so cut those off too..
Now.. because I'm running Cycra hand guards that mount to my triple, I use longer bolts and I must get those tightened down before attaching the bullet lights. So far its looking good!
Here's the mount with both lights mounted up..
Tuck the wires nicely under the number plate.. the WR has plenty of room for all these cool accessories..
Time to turn these bad boys on…
Man, these are going to be awesome when I get stuck out on the trail again!
Connect My GPS
I wanted the ability to move my Garmin 478C GPS from my WR250R to my Versys very easily. So.. the solution to this is easy, all I needed were a couple more SAE connectors. And with the GPS you get a power cable that plugs into a standard wall outlet and powers the unit. Instead of buying another power cable to connect to a Powerlet or hard wired to the battery.. simply cut the wall power cable and use the Garmin plug for both bikes AND the wall outlet.
Sure does save me some money.. now I just solder a SAE connector to each end, leaving a nice Garmin outlet pigtail for my 478C…
One more thing! IMPORTANT!
To make sure I don't accidentally ground out the GPS circuit when my GPS is disconnected, I put a SAE cap on my SAE connector.
And now the finished product… Lights and GPS mounted up.. ready to ride!
I couldn't be happier with the way this all turned out.
UPDATE! Light Switch Mount
Ok.. here's what I'm going to try out.. I took a piece of Kydex, heated it up and bent it at a 90.. drilled a hole in it and mounted it on my mirror stem.
Easily reached with my thumb.. thumbs up!
The only thing left is…. Let's Ride!