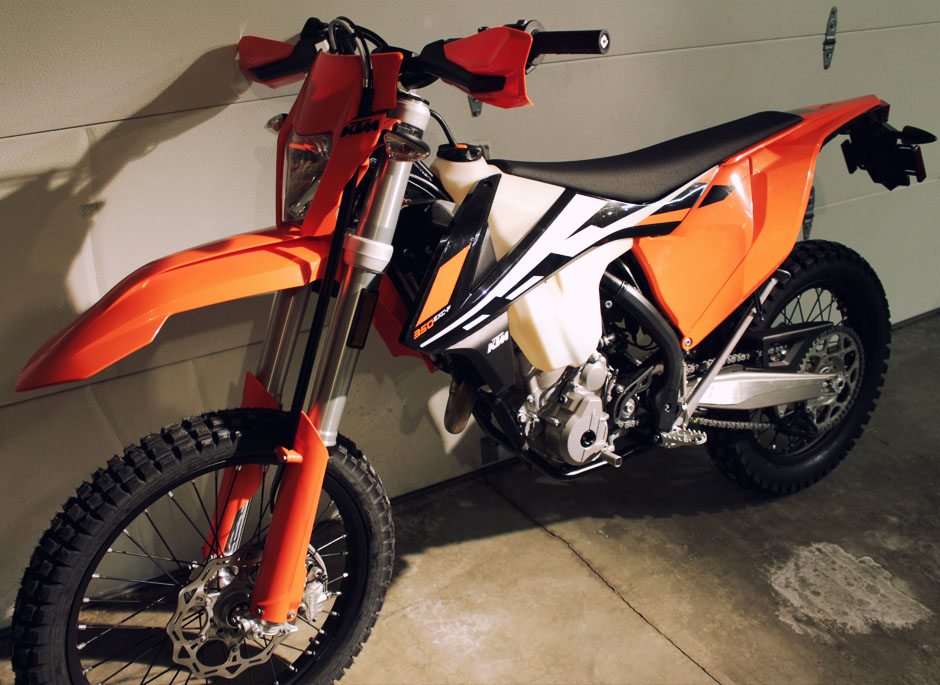 17 Mar 2017

More Farkles // KTM 3-Fiddy
Midwest Engineering Clutch Lever
Ever since I saw the Midwest Clutch Lever review on Cross Training Enduro Skills YouTube channel, I thought it would be really cool to try on my new 350 EXC-F. This lever also helps if you keep the stock bar switch, as you will soon find out with the stock lever and bar switch, the tension adjuster can hit the switch. I discussed this on my KTM 3-Fiddy Talk #1 post.
This lever does as advertised.. it reduces the pull on the clutch even more, making it a much lighter pull. The way it is designed is for the clutch to engage slightly after you release it off the grip, so it may take some a bit to get use to. The thought behind this, is to have more hand strength on the grip with the lever pulled almost all the way in.. I think I'm going to like this a lot but will report back when I get more rides with it.
More Info:
Midwest Brembo2 B2C
Slavens KTM Swingarm Protectors
What better way to keep your brand spankin' new bike's swingarms from getting destroyed by Missouri rock…..Slavens Swingarm Protectors, and they are cheap! Worth every penny.. and on the 2017 KTM's they just make your bike look extra sick…
More Info:
Slavens Racing Swingarm Protectors
Tusk Billet Rear Disk Guard
A fellow KTM rider reported really good luck with the Tusk Disc guard after several months of riding. So I thought, what the heck… why not?! it's a addon that gets abused no matter the brand! We'll see how it holds up & it looks sweet!
More Info:
Tusk Billet Rear Disk Guard
Sicass Racing Multi-Function Bar Switch
Since the stock bar switch is rather wide, I decided to get a thiner switch that also adds the option to turn OFF the headlight when I wanted to! A couple other things I really like about this switch is it's truly PLUG-n-PLAY and the indicator lights are awesome!
Sicass Racing Key Switch Eliminator
Like I discussed in my KTM 3-Fiddy Talk #1, the ignition key is just in a bad spot.. so I decided to get rid of it!!! Easiest mod ever!
My next post I'll show how to install the Sicass Racing Front LED turn signals, new flasher and how to wire the Sicass Indicator Wiring kit, which is required if you have all LED turn signals like I do.
Stay tuned!